New Orleans Cooking With Kevin Belton
In a 26-part cooking series, chef Kevin Belton takes viewers on a tasty tour of New Orleans. From classic French to soul food to German, Irish, and Italian influences, New Orleans Cooking with Kevin Belton explores the diverse mix of cultures that contribute to the distinctive food of the Crescent City. The self-trained chef prepares the venerable dishes of the city, including family recipes for seafood gumbo, pralines, shrimp remoulade, chicken Clemenceau, corn and crab bisque, pecan crusted redfish, red beans and rice, Cajun turkey and dirty rice, bananas foster and many other New Orleans specialties.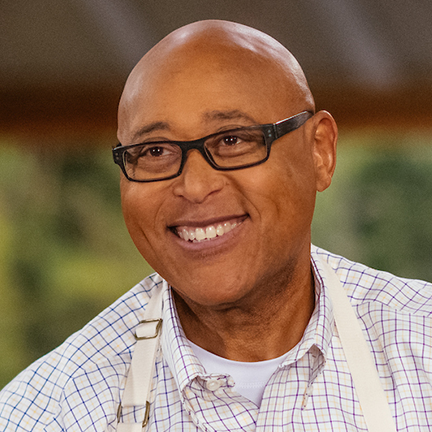 Self-taught Creole chef Kevin Belton pulls back the curtain to showcase the legendary cuisine of his native New Orleans.
Classic New Orleans
Episode #101H · Seafood gumbo, corn maque choux, beignets.
Jazz Brunch
Episode #102H · Grillades and grits, pain perdu, bananas foster.
Rice Favorites
Episode #103H · Traditional New Orleans Calas, jambalaya a la Big Easy, Creole rice custard pudding.
Traditional Mexican
Episode #104 · Posole fish tacos with remoulade sauce, guacamole.
Soul Food
Episode #105H · Fried chicken, stuffed green bell peppers, sweet potato pie.
Mom's Saturday Staple
Episode #106H · Buttermilk pancakes with praline bacon sprinkles, New Orleans glazed ham po-boys, southern style butter beans.
New Year's Traditions
Episode #107H · Cabbage casserole, black eyed peas and andouille, corned beef.
German Heritage
Episode #108H · Red cabbage, beef rouladen, potato pancakes.
Shrimp Specialties
Episode #109H · Shrimp remoulade, shrimp Creole, BBQ shrimp.
Egg Dishes
Episode #110H · Eggs Benedict, eggs sardou, clean-out-the-fridge frittata.
Classic Creole
Episode #111H · Corn and crab bisque, shrimp etouffee, pralines.
Italian Influences
Episode #112H · New Orleans red gravy, triple threat meatballs, tiramisu cupcakes.
Gettin' Crabby
Episode #113H · Crab cakes, soft shell crab amandine, crabmeat stuffed shrimp.
Trio of Soups
Episode #114H · Crawfish and corn soup, turtle soup, oyster and artichoke soup.
Carnival
Episode #115H · Shrimp and andouille gumbo, Creole potato salad, King cake.
Down Home
Episode #116H · Barbecued spareribs, smothered greens and Louisiana cornbread, banana pudding.
Fresh Catch
Episode #117H · Trout meuniere, pecan crusted redfish, fried catfish with beer batter.
French Beginnings
Episode #118H · Daube, spaghetti bordelaise, lemon creme brulee.
Oysters
Episode #119H · Oysters Rockefeller, fried oysters with spinach salad, oyster patties.
Thanksgiving
Episode #120H · Stuffed mirlitons, Cajun turkey and dirty rice.
Wash Day
Episode #121H · Red beans and rice, panned veal, bread pudding with whiskey sauce.
Garden Harvest
Episode #122H · Corn and sweet pepper relish, fried green tomatoes, Creole okra.
Potatoes
Episode #123H · Sweet potato gnocchi, sweet potato pecan casserole, bacon potatoes au gratin.
Poultry
Episode #124H · Chicken Clemenceau, slow roasted duck with orange and soy gravy, boudin stuffed quail.
Irish New Orleans
Episode #125H · Irish stew, Creole cottage pie, Irish channel soda bread.
Reveillon Dinne
Episode #126H · Redfish sauce piquante, smothered Creole pork roast, buche de Noel.