Neven's Spanish Food Trails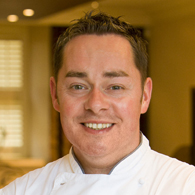 At the core of Neven's philosophy is a dedication to using only the finest local seasonal ingredients.
Bilbao
Episode #101 · The first stop on Neven's Spanish Food Trails is Bilbao. Neven takes a look at the city's incredible modern architecture, and of course its culinary delights. He calls in at the Manuel Angulo patisserie, where even the sweetest tooth can be satisfied. He also takes a trip to Zortziko, one of Blibao's Michelin star restaurants and meets Chef Daniel Garcia who is renowned for his innovative approach to cooking. Neven's recipes this week include: Buffalo chicken wings with blue cheese dip, and Prune and Armangnac tart.
Wine Country
Episode #102 · On the second stop of his Food Trail adventure, Neven takes a hot air balloon trip over the vineyards of the spectacular La Rioja wine region, and visits a restaurant where the lamb is grilled over an open fire, using wood from the vines which imparts a special flavour. Neven then heads back to the Basque Country to visit the Cune winery. This week's recipes include Air-dried Lamb Carpaccio with Roasted Beetroot and Mustard Cream.
Pinchos
Episode #103 · Tonight Neven tries a traditional Basque Country speciality: pinchos, the Basque name for tapas. He visits San Sebastian's finest pinchos bars, including one which is renowned for its marinated anchovy and also steak pinchos. Neven also discovers the best cheesecake he has ever tasted! Recipes in this programme include: Cracked patatas bravas with chorizo, Garlic aioli, and Salmon terrine with Dublin Bay prawns.
Rioja
Episode #104 · In this episode, Neven's food trail leads him to the stunning Hotel Marques de Riscal designed by world renowned architect Frank Gehry. The Hotel is also home to a winery, and Neven takes a tour. He travels on to Lantziego to meet olive oil expert and producer Peter Lacuesta for an olive oil tasting. Neven's own recipes include: Roasted red pepper gazpacho with basil oil ice cubes and garlic toasts, and Stuffed beef rolls with red wine sauce.
San Sebastian
Episode #105 · Continuing his Food Trail of the Basque Country, Neven explores San Sebastian. The city is unique in having a university dedicated to food, and Neven drops by to meet the director Joxe Mari Aizega. He also calls in at Arzak, a Michelin-starred restaurant with a "lab" in which new dishes are created and learns how to make one of the restaurant's most famous chocolate desserts. Neven's recipes this week include: Flourless orange and almond cake with rosemary syrup, and Saddle of rabbit stuffed with black pudding.
The Coast
Episode #106 · In tonight's programme, Neven takes a trip to the beautiful fishing port of Bermeo, gets to grips with cooking octopus, and visits a tuna cannery where the preparation of fish requires great skill and precision. He eats at one of the Basque Country's finest fish restaurants: Portu-ondo. Neven's own recipes this week are: Tuna and hummus bruschetta with spinach salad and capers, and Grilled black sole on the bone with lime and caper butter.
Wild Country
Episode #107 · On his final stop in the Basque Country, Neven visits the Ordizia food market to get a taste for the local food culture. He calls in on a traditional Basque cider house which produces eleven different ciders and serves surprisingly huge steaks. Neven also meets local cheese maker Eneko Goiburu and learns the traditional cheese making techniques that have been passed down generations of the Goiburu family. Neven's own recipes in this programme include: Chestnut and wild mushroom soup with cider, and Crozier Blue sheep's cheese, red onion and rosemary focaccia.
Malaga
Episode #108 · Neven's six part series starts in Malaga, traditionally the gateway to the Costa Del Sol but now a tourist destination in its own right. Beside the Roman amphitheatre is El Pimpi where Neven is served the restaurant's famous fish soup before visiting the Alcazaba, a Moorish citadel. After visiting Frigiliana, a white-washed village in the hills to the east of Malaga. Neven ends his day in the city's oldest wine bar where the wine is served straight from the barrels and the bill is chalked up on the counter. Neven's recipe in this programme is a Pecan Pie, using molasses from Frigiliana.
Granada
Episode #109 · Neven visits Granada and starts the day the traditional way with Churros - deep fried batter served with thick hot chocolate. Neven visits the tombs of King Ferdinand and Queen Isabella, the monarchs who united Spain and ended Moorish rule in Granada. Cold filtered coffee, cakes dedicated to a Pope, and a tapas tour of the city are all on the menu. Every Spanish city claims to have its own unique form of tapas, and Granada's claim is that it serves free tapas - a claim which turns out to be true. This week Neven makes delicious Marinaded Rump of Lamb with Cinnamon and Spices.
Cordoba
Episode #110 · Priego de Cordoba is a town strategically positioned on top of a hill, surrounded by hundreds of square kilometres of olive trees. Neven learns about the different types of olives used to make the town's award-winning olive oil. The city of Cordoba is known for its own version of chilled tomato soup called Salmorejo - a puree of tomato, bread, garlic and olive oil, and very different to the better known gazpacho. Neven is invited to join the Brotherhood of Salmorejo, a group dedicated to ensuring that the soup is made properly. Finally, Neven visits a bodega in Montilla to learn about Fino (which means "refined" in Spanish), the driest and palest of the fortified wines of the region. Neven ends this week's programme cooking Vegetable Risotto using sherry vinegar.
Seville
Episode #111 · Seville is the capital of Andalusia, and this week Neven discovers many of the things that make the city famous. Just outside the city, Neven visits an organic farm which produces Seville oranges, and he makes marmalade for the first time. The Triana district of Seville is the edgier part of the city, well known for producing bullfighters and flamenco dancers and Neven meets Christina Heeren, an American woman who set up a school for flamenco dancers, guitarists and singers. Neven's finishes this week's programme by creating a seafood stew flavoured with Seville oranges.
Huelva
Episode #112 · The Sierra de Aracena is in the north-western corner of Andalusia and is one of the least explored parts of the region. Small, white-washed towns like Aracena nestle between mountains, forests and oak meadows known as "dehesas". This is where the black Iberian pigs are farmed, and these pigs produce one of the area's finest delicacies, "Jamon Iberico". After visiting Aracena's "Grotto of Wonders" Neven discovers a bakery which is 175 years old and learns how the local speciality is made: thin strips of dough which are deep fried and formed into a block with cinnamon and honey. In Jerez, Neven joins Michelin-starred chef Juan Luiz Fernandez in his brand new, Alice in Wonderland-themed restaurant for some of the most modern and imaginative cooking he's enjoyed on this trip. Neven's own dish reflects the rural nature of the region - Rabbit Stew with Chorizo.
Cadiz
Episode #113 · Neven ends his travels around Andalusia in Cadiz, reputed to be the oldest continuously inhabited city in Europe, dating back 3000 years. Neven visits the city's fish market, looking for unusual things such as cuttlefish eggs. Sherry in Spain is very different to the sherry that's sold in Ireland and the UK as it is very dry, and, as Neven discovers when he visits a small sherry bodega (Bodegas Rey Fernando De Castilla), an excellent accompaniment to a variety of food. Before cooking his final recipe of Prawns in Garlic, Neven meets chef Julio Vazquez who specialises in cooking tuna which in this part of Spain is taken very seriously indeed.