Make It Artsy
Make it Artsy is dedicated to the crafter, maker and artist. The series celebrates the maker spirit by showcasing everything from mixed media to metalsmithing, using tools from saws to sewing machines, and materials from paper to wood. Join host Julie Fei Fan Balzer and discover crafting with a touch of industrial style.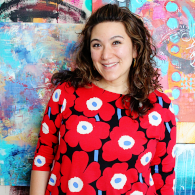 Julie Fei-Fan Balzer is a mixed media artist, author and podcaster living and working in Watertown, MA.
<< previous 30 |
1-30 of 99
|
next 30>>
Party People
Episode #202H · It's time to party. Artist Cat Kerr mixes things up with a pendant made in layers. Tool expert Joe Rotella melts glass in a microwave oven to create contemporary jewelry and accessories. Candie Cooper cranks out a one-of-a-kind artsy gift box with a treasure inside. Artist Jane Dunnewold has an art tip.
Embrace Imperfection
Episode #203H · Embrace imperfection as you make art. Metalwork artist Mary Hettmansperger playfully collages with fabric and mediums to create wall art. Author and artist Jane Dunnewold takes the basic square into new directions. Julie Fei-Fan Balzer uses a masking technique to create layers of watercolor effects. Jane Dunnewold shares her artistic perspective.
Shine
Episode #204H · Make your art sparkle. Artist Jen Cushman wraps wire and stamps words to create a metallic flower. Host Julie Fei-Fan Balzer crafts a variety of projects with decorative foils. Artist and teacher Cat Kerr molds shining eyes to use in lots of different projects. Learn a new tip from Jane Dunnewold.
New to Me
Episode #205H · Add something new to your creative routine. Tool expert Joe Rotella uses today's latest cutting technology to create glitter applique. Host Julie Fei-Fan Balzer makes collages with acrylic skins and films. Studio artist Cynthia Thornton paints fashions and faces to create a charming fabric doll. Jane Dunnewold shares another art tip.
Making A House A Home
Episode #206H · Add artistic flair to your home. Jewelry-maker Candie Cooper makes beaded vases and luminaries. Mixed media artist Cat Kerr shows a new technique for using resin to create textured sheets. Artist Rae Missigman makes a small canvas to add an artful touch to any room. Back with another art tip is Jane Dunnewold.
Books
Episode #207H · Nourish your mind with a good book. Artist and writer Andrew Thornton sculpts a beautiful book cover. Julie Fei-Fan Balzer creates a whole book out of a single piece of paper. Tool expert Joe Rotella binds books inspired by ancient techniques from the Far East. Jane Dunnewold shares another artsy idea.
Time
Episode #208H · Keep track of time in an artistic way. Metal artist Mary Hettmansperger crafts clock parts into a necklace. For his favorite time piece, his phone, tool expert Joe Rotella makes a decorative stand. Mixed media artist Rae Missigman captures moments in time in an artful clipboard journal. Artist Jane Dunnewold has more artful ideas to share.
Folk Art
Episode #209H · Folk art is the essence of a culture. Painter and maker Mystele Kirkeeng paints abstract folk art faces and figures. Tool expert Joe Rotella uses baker's twin to weave new art on a tin tile. Host Julie Fei-Fan Balzer draws repeating shapes to create a meditative mandala. Jane Dunnewold shares another artistic perspective.
Wear Your Art
Episode #210H · Wear your art and express your maker's spirit wherever you go. Embellishment artist Candie Cooper makes bag charms with leather and beads. Resin artist Susan Lenart Kazmer casts found objects to wear as jewelry or embellishments. Fine artist Andrew Thornton turns a book into a necklace. Jane Dunnewold is back with more art tips.
Kid Friendly
Episode #211H · Inspire a young maker with kid-friendly art projects. Folk artist Mystele Kirkeeng paints a portrait of a cup inspired by various designs. Studio artist Cynthia Thornton paints and assembles charming paper dolls. Jewelry expert Candie Cooper tops things off with a beautiful beaded crown. Jane Dunnewold shares another art tip.
Express Yourself/Personal Style
Episode #212H · Pump up your personal style statement. Host Julie Fei-Fan Balzer draws and cuts custom screens for silkscreen printing. Painter Mystele Kirkeeng uses supplies at hand to paint a charming folk art house. Studio artist Andrew Thornton gives fabric a work out and creates and artful book. Jane Dunnewold joins Julie with another artsy idea.
Inspired By Fashion
Episode #213H · Today, art becomes fashion. Mixed media artist Rae Missigman makes a wearable art journal for her artful ideas. Today's hottest jewelry trend is crafted into a bangle bracelet by Jen Cushman. Artist Candie Cooper affirms her art statement by embellishing boots. Jane Dunnewold has another idea about the maker's movement.
Blueprints
Episode #301 · Before you build, make a plan or blueprint. Julie Fei Fan Balzer creates a scheduling journal with lots of color and style. Lynn Suprock sculpts tiny books to use as journals and jewelry. Joe Rotella builds a planner from an ordinary calendar. Jane Dunnewold talks about personal alignment.
Building Blocks
Episode #302 · From basic blocks, great new art is built. Lynn Suprock uses a blender to turn recycled materials into paper. Rebekah Meier cuts, sews and paints a multi-media collage. Mary Hettmansperger makes cold connection jewelry and Jane Dunnewold shares more ideas on alignment.
Nuts and Bolts
Episode #303 · Let's get down to nuts and bolts. Candie Cooper weaves leather through washers to make a cool bracelet. Joe Rotella and Julie McGuffee join forces and power up their tools to create a musical wind chime from a wine bottle. Jane Dunnewold concludes her thoughts on alignment.
Bricks Need Mortar - They Don't Stand Alone
Episode #304 · Combine materials with inspiration to make contemporary art. Julie Fei Fan Balzer sews and stamps fabric embellishments for book covers and more. Debbi Simon combines clay with uncommon materials to create unique 3-D pieces. Julie Fei Fan Balzer screen prints with stencils and Mary Hettmansperger adds shine to metalwork with mica.
A Good Foundation
Episode #305 · Great art is built on a good foundation. Rebekah Meier cuts, paints and assembles layers of felt. Mystele Kirkeeng uses paints and pastels to craft a folk art house. Mary Hettmansperger fabricates jewelry and art objects from copper. Jane Dunnewold discusses content.
Tools of the Trade
Episode #306 · Making art is easy with the right tools. Joe Rotella drills fine china to make a charming bird feeder. Cheryl Boglioli crafts a charming bisque face pendant. Candie Cooper makes metallic leather tassels to embellish jewelry, accessories and home dec and Mary Hettmansperger fires up her torch and shares some tips.
On The Surface
Episode #307 · The surface reflects your artistic flair. Lynn Suprock transforms shot gun shells into trendy jewelry. Debbi Simon adds heat to encaustic wax to create special effects. Cat Kerr creates a beautiful pendant with cool resin techniques and Mary Hettmansperger adds color to copper.
Hard Hats Required
Episode #308 · Grab your hard hat to make heavy-duty art. Julie Fei Fan Balzer cuts, embosses and paints metal to create home decor. Make a lamp with interchangeable panels with Joe Rotella. Cheryl Boglioli mixes media and crackles it on canvas for special effects and Jane Dunnewold has more ideas about the inner artist.
Signage
Episode #309 · It's all about signage and announcing your event. Julie Fei Fan Balzer makes a festive partyscape for any occasion. Julie McGuffee and Joe Rotella team up to make a shiny party banner and Julie Fei Fan Balzer makes paper tiles that look like clay tiles. Jane Dunnewold talks about collections.
Finishing Touches
Episode #310 · Add that perfect finishing touch. Joe Rotella molds and casts a one-of-a-kind gaming set. Sandra Evertson upcycles vintage bottles to make trendy Boho decor. Candie Cooper finishes off a leather cuff with colorful embroidery and Mary Hettmansperger smooth-finishes metal edges.
Plumbing and Electrical - Below The Surface
Episode #311 · Explore below the surface. Cheryl Boglioli adds a variety of materials to a crafted form to make a gallery-ready figurine. Rae Missigman creates a trendy artistic cuff bracelet. Rebekah Meier makes a mixed media circle abstract on canvas. Jane Dunnewold talks about planning your art.
Under and Over
Episode #312 · Look over, under and all around for creative ideas. Debbi Simon sculpts artful household hardware from clay. Candie Cooper embosses on leather and Sandra Evertson transforms candlesticks into art with clay and found objects. Jane Dunnewold talks about setting goals.
Grand Opening - Proper Attire
Episode #313 · Once it's built, it's time for the grand opening! Dress up with wood and clay jewelry holder from Candie Cooper. Jen Cushman stamps an on-trend metal bracelet. Rae Missigman makes a cute purse from recycled products. Mary Hettmansperger has safety tips for working in your studio.
Mediums
Episode #401 · Not all artists use brushes, and paint is not their only medium of choice. On today's episode, we begin with a lesson inspired by Camille Pissarro as we paint using a palette knife instead of a brush. Then meet Dina Wakley for a graffiti inspired modern street art design. We finish up with Cheryl Boglioli and a 3D sculpture using an interesting medium to create a female form reminiscent of modernism.
It's All Art!
Episode #402 · Sometimes we get hung up on definition of art. Some may take a narrow view of what can be considered art but contemporary artists are always looking to expand the rules! Today we push the rules. First is an Andy Warhol inspired design using photo editing software to create one of his iconic effects. Then Joe Rotella explores automata - or a wooden mechanical tool for a unique artistic approach. We finish up with May Flaum and a nod to contemporary art - you've got to "make it work"! If you don't' like what you've made - chop it up and make it into something better!
Mavericks
Episode #403 · Certain artists are known for pushing the envelope - they are the innovators or mavericks of the art world. We begin today with Jackson Pollock, an abstract impressionist known for his drip painting which we'll give a try. Then Joe Rotella our own maverick creates coral from film - a pretty interesting technique. Then Cheryl Sleboda is up next with art as wearables and paldrons created for cosplay. We finish up with Candie Cooper as she cuts up cookie tins to make earrings.
All About Brushes
Episode #404 · Brushes are the first tool for many artists or are they? We begin with a Vincent Van Gogh inspired painting where we lose the brush in favor of a straw. Then Michael deMeng has a project entitled "good brushes gone bad"; as discarded brushes are the actual base of strange creatures. Then learn lettering styles using brush pens with Janet Takahashi. Finally we meet Dina Wakley with art inspired by Van Gogh's brush strokes.
Shapes and Symbols
Episode #405 · Shapes and symbols take on new meaning when incorporated into art. First we look at Marc Chagall, a modernist, for inspiration on using symbols in art for stories. Then meet syndee holt as she incorporates shapes into an art form using clay to make switch plate covers. We finish up with Janet Takahashi, as the scroll shape turns into flowers.
<< previous 30 |
1-30 of 99
|
next 30>>