Kevin Belton's New Orleans Kitchen
Chef Kevin Belton continues his mission of teaching home cooks the hallmarks of New Orleans' flavorful cuisine while "letting the good times roll."
The Lousiana native explores the mix of cultures that contribute to the distinctive food of New Orleans by delving into the city's diverse culinary influences, including Cuban and Vietnamese cuisine. Recipes range from fried oyster po-boy sandwiches and Creole chicken to duck and andouille gumbo. Belton also emphasizes the bounty of ingredients available in the local pantry — from coffee and seafood to citrus and more.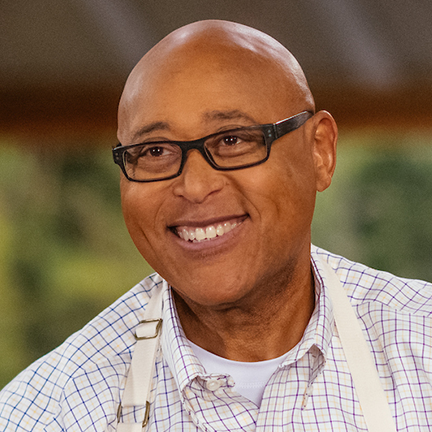 Self-taught Creole chef Kevin Belton pulls back the curtain to showcase the legendary cuisine of his native New Orleans.
My New Orleans Kitchen
Episode #101 · Crawfish pie; Baked stuffed flounder with herbsaint butter; Banana fritters.
My Kids' Hands Down Favorites
Episode #102 · Alligator sauce piquant; Duck and andouille gumbo with potato salad; Steak au poivre.
Java Jive
Episode #103 · Coffee marinated beef roast with red eye gravy; BBQ ribs with a sweet coffee rub; Coffee ice cream.
The Po-Boy Sandwich
Episode #104 · Slow cooked roast beef po-boy, dressed with homemade mayonnaise; Fried oyster po-boy with blue cheese and buffalo sauce; French fry po-boy with gravy.
Spring Fling
Episode #105 · Roast duck quarters with boudin squares and honey bourbon gravy; Roasted root vegetables marinated in wine and coffee; Asparagus woup.
St. Joseph's Day
Episode #106 · Fried artichokes with mudrica; Olive salad; Crawfish bread; Italian fig cookies.
Seriously Good Shellfish
Episode #107 · Traditional seafood boil; Crawfish bisque; Fried lobster with cream dill sauce.
Cuban Connections
Episode #108 · Marinated roast pork with fried plantains; Paella; Flan.
Louisiana Yams
Episode #109 · Creole brined chicken with collards and yams; Sweet potato ravioli; Sweet potato mash with crumble topping.
Croatia - The Adriatic Influence
Episode #110 · Oven-baked oysters; Pan fried trout with anchovy jalapeno gravy; Shrimp with smoked grit cakes.
Gone Fishin'
Episode #111 · Trout en papillote with blue crab b utter; Seared Gulf tuna with greens and cilantro lime honey vinaigrette; Whole roasted rrum with vegetables en brochette.
Pecans - Louisiana's Favorite Nut
Episode #112 · Peach and spinach salad with toasted pecans; Pecan crusted baked chicken; Pecan cheesecake with caramel whiskey sauce.
Latin America Meets Nola
Episode #113 · Sancocho soup; Shrimp ceviche with arepas; Guava turnovers.
Butter Up
Episode #114 · Bacon popcorn topped with clarified butter; Spinach lasagna with blonde roux bechamel; Baked chicken with herb butter.
Vibrant Vietnamese
Episode #115 · Fresh Vietnamese spring rolls in rice paper with peanut dipping sauce; Vietnamese wonton soup with shrimp and pork wontons; Vietnamese chicken wings and egg rolls.
Tailgating Dishes That Score
Episode #116 · Homemade granola with dried fruit; Beef jerky; Red bean hummus with veggie chips; Skewered steak, chicken and shrimp.
Mirliton - The Tofu of Vegetables
Episode #117 · Mirliton gazpacho with fried oysters; Pork BBQ on brioche with spicy mirliton slaw; Mirliton bread.
Cool Beans
Episode #118 · Red chili with coffee and jalapeno cheddar cornbread waffle bowl; White beans with shrimp; Black beans and rice.
Aunt Dorothy's Arsenal
Episode #119 · Cornish hens stuffed with Dot's special mix and dirty rice; Fried chicken livers with peach sauce; Banana pudding with sweet coffee glaze.
Okra - A Deep South Staple
Episode #120 · Fried whole okra with pecan breading; Crabmeat stuffed okra; Creole smothered shrimp and okra over rice.
Plaquemines Parish Citrus
Episode #121 · Citrus roasted chicken with lemon mashed potatoes; Salt crusted pompano with satsuma orange butter sauce; Lemon and blueberry pound cake with citrus glaze.
Mama's Deserts
Episode #122 · Coconut cake with icing a la Lorna; Ambrosia; Apple cream cheese slab pie.
The Ubiquitous Eggplant
Episode #123 · Fried eggplant fingers with red gravy; Eggplant pirogue; Eggplant Napoleon.
It's Greek to Me
Episode #124 · Chicken souvlaki with tzatziki; Moussaka; Baklava.
The Berry Best
Episode #125 · Stuffed French toast; Stuffed pork chops with bacon maple reduction; Berry best shortcake with lemon biscuits.
Mom's Night Out
Episode #126 · Beef tournedos with twice baked potatoes; Fried chicken with honey and lemon; Baked corn on the cob with honey butter.