Kevin Belton's New Orleans Celebrations
Chef Kevin Belton showcases the food of New Orleans — "Festival Capital of the World" — from fried oyster po-boy sandwiches with blue cheese and buffalo sauce, to Creole brined chicken with collards and yams, to duck and andouille gumbo with potato salad. During colorful location segments, Belton chats with food vendors and mingles with festival goers at the Oyster Festival, the French Market Creole Tomato Festival, Bastille Day Fete, Satchmo Summer Fest and more. Later, in his new courtyard kitchen, Kevin puts his twist on some of his food-booth favorites, from fried green tomatoes to crawfish pies.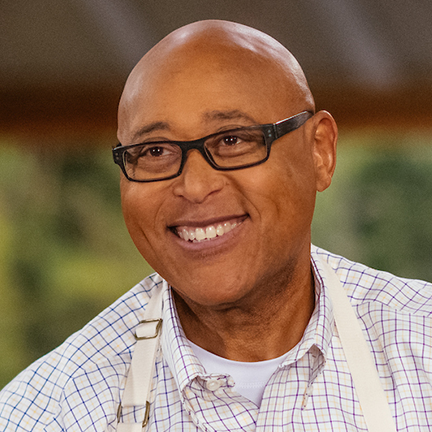 Self-taught Creole chef Kevin Belton pulls back the curtain to showcase the legendary cuisine of his native New Orleans.
Vieux Carre Salute
Episode #101 · Cheesy Mac Fingers; Fried Green Tomatoes with Lemon Aioli; Bananas Foster Bread Pudding with Rum Sauce.
All That Jazz Fest
Episode #102 · Buffalo Chicken Dip Stuffed Bread; Shrimp Remoulade Po-boy; Louisiana Seafood Pasta.
Bbq Fest
Episode #103 · Ham Croquettes with Pear Pepper Dipping Sauce; Pulled Pork Slaw Sandwich; Asian Beef Skewers.
Oyster Fest
Episode #104 · Garlic Oysters; Oyster Tamales with Red Chili Sauce; Oyster Chowder.
Tomato Fest
Episode #105 · Tomato Pie; Stuffed Tomatoes with Gulf Tuna Salad; Margherita Crepe.
Gumbo Fest
Episode #106 · Okra Gumbo; File Gumbo Lasagna; Gumbo Z'herbes.
Crawfish Fest
Episode #107 · Crawfish Enchiladas con Queso; Crawfish Balls; Crawfish Stuffed Mushrooms.
Boudin Fest
Episode #108 · Homemade Boudin; Fried Boudin Balls and Wraps; Boudin Pizza.
Strawberry Fest
Episode #109 · Ribeye Steak Salad with Strawberry Balsamic Vinaigrette; Strawberry Ice Box Pie; Chocolate Waffle Bowl filled with Chocolate Dipped Strawberries.
Catfish Fest
Episode #110 · Smoked Catfish Dip; Potato Chip Crusted Catfish Nuggets with Creole Mayonnaise; Catfish Tacos with Chimichurri Sauce.
Pie Fest
Episode #111 · Natchitoches Meat Pies; Crawfish Pies; Fruit Hand Pies.
Jambalaya Fest
Episode #112 · Pastalaya; Breakfast Jambalaya; Jambalaya Stuffed Chicken Thighs.
Rice Fest
Episode #113 · Baked Rice Au Gratin; Broccoli Fried Rice; Bacon and Egg Calas.
Greek Fest
Episode #114 · Grilled Shrimp Gyros with Herbed Yogurt Spread; Dolmades; Greek Lentil Salad.
Crab Fest
Episode #115 · Crabmeat Ravigote; Creole Crab Dip; Crab Claws with Marinara.
Etouffee Fest
Episode #116 · Pork and Onion Etouffee; Gulf Fish Etouffee; Mushroom and Steak Etouffee with Cheesy Mashed Potato Patties.
Bastille Day Fete
Episode #117 · Chicken Liver Pate; Crustless Spinach and Leek Quiche; Stone Fruit Galette.
Fried Chicken Fest
Episode #118 · Chicken and Waffle Melt; Fried Chicken Chicken-Salad Sliders; Sweet Heat Pan-Fried Chicken.
Oktoberfest
Episode #119 · German Sausage with Cajun Poutine; Pretzels with Beer Cheese Sauce; Pork Schnitzel with Bacon and Apple Sauerkraut.
Beignet Fest
Episode #120 · Beignets with Chocolate Sauce; Herbed Ham & Cheese Beignets; Lobster Beignets.
Neighborhood Fest
Episode #121 · Parmesan Garlic Chicken Wings and Greens; Cheesesteak Po-Boy; Red Velvet Funnel Cakes with Cream Cheese Drizzle.
Shrimp Fest
Episode #122 · Beer Batter Shrimp Fritters; Shrimp Nachos; Shrimp and Grits.
Italian Fest
Episode #123 · Fried Calamari with Creamy Lemon Butter Sauce; Meatball Po-Boy; Sausage and Pepper Calzone.
Cajun Fest
Episode #124 · Cajun Fried Frog Legs; Cracklins; Catfish Courtbouillon.
Latin Fest
Episode #125 · Patatas Bravas; Cemita Poblano Puebla-Style Sandwich; Sweet Potato Empanadas.
Burger Fest
Episode #126 · Shrimp and Crab Burger; Bacon Monster Burger; Triple Cheesy Cheese Burger.