Happy Yoga with Sarah Starr
Amid the beauty of nature's most tranquil settings, certified yoga instructor Sarah Starr guides viewers through an invigorating, fun and accessible routine. Sarah begins by working through a modified practice with chair support before transitioning to intermediate yoga sessions on the mat. Throughout, viewers can learn to relax and tone the body, increase flexibility, improve breathing habits and posture, while enhancing overall well-being.
Distributed by: The National Educational Telecommunications Association (NETA)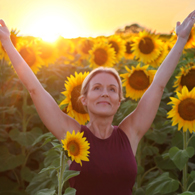 Certified Yoga Instructor Sarah Starr inspires viewers to greater wellbeing through an accessible yoga practice.
Forest Cove
Episode #101H · Rejuvenate inside a lush forest cove as we get those good endorphins flowing, feeling replenished with gentle stretching for all your major muscles, including legs, hips, back, shoulders and neck, using a chair for support.
Majestic Golden Fields
Episode #102H · Bask in the glory of the majestic golden wheat fields as we experience a modified yoga practice using a chair to improve posture and support movement in the whole body including balance and standing poses to open the hips and lengthen the hamstrings.
Desk Jockey Gentle Yoga
Episode #103H · Rejuvenate amongst the sunflower backdrop as we enjoy a modified yoga practice using a chair for support. The chair replaces the yoga mat, creating an amazing form of adaptive exercise. Apply this practice to mini yoga breaks at work, a long plane ride, or any time you need to balance the mind, increase blood flow and boost your energy.
Seascapes
Episode #104H · Allow the calming waves and sparkling sea caves to soothe you as we experience the gift of renewal through a series of tranquil, rejuvenating poses using a chair for support, including shoulder, chest and upper back stretches, hip openers, twists and more.
Radiant Bloom
Episode #105H · Enjoy the radiant summer sunflower setting as Sarah Starr guides you expertly through a modified yoga practice with an emphasis on alignment - dedicated to opening the full circumference of the hip-joints using a chair for support as well as gentle seated stretching for the upper body.
Tranquil Meadow
Episode #106H · Replenish your energy in the natural beauty of a tranquil summer meadow as we focus on seated shoulder and upper back stretches, as well as standing hip openers, using a chair for balance and support, creating easy comfort in each movement.
Summer Brillance Gentle Yoga
Episode #107H · Bask and breathe in the gorgeous sunset amongst a brilliant sunflower backdrop as we move through a gentle seated practice. Today Sarah Starr will guide you through a gentle practice using a chair for stability and balance. Enjoy stretches that link breath with movement, forward bends to free the muscles of the back, increasing circulation to internal organs, ending with a relaxing guided meditation.
Dunes Gentle Yoga
Episode #108H · Relax and rejuvenate on the tranquil beach dunes, drawing in calm, soothing energy from the surrounding water. Allow Sarah Starr to lead you through a gentle yoga routine using the support of a chair as you open to more flexibility in the shoulders, upper back and hamstrings.
Garden Delight Gentle Yoga
Episode #109H · Bask in the beauty of Mother Nature in our gentle seated practice as you enjoy easy to follow exercises to stretch the hands, wrists, shoulders, upper back and legs. Each pose can be done gently, just simple stretches along with conscious and deep breathing are effective and powerful.
Luminous Waves
Episode #201H · Allow the luminous water energy to recharge your body as we enjoy a dynamic flowing warrior series using a chair for support, focusing on strengthening the legs while opening to more space and flexibility in the hips, shoulders and upper back.
Sunrise Delight
Episode #202H · Savor the brilliant colors of sunrise as we reconnect you to your abdominal muscles with gentle seated exercises using a chair for support, focusing on igniting the core as well as activating the hip flexors and quadriceps.
Flowing River
Episode #203H · Allow the powerful flowing river energy to renew your body as we explore a rejuvenating yoga practice using a chair for support, focusing on coordinating movement and breath, improving circulation in the upper body while dissolving tension in the neck and shoulders.
Peaceful Woods
Episode #204H · Bask in the deep silence of a lush wooded paradise as we create more grace and fluidity in your body using a chair for support, beginning with stretches to open the shoulders and chest, a rejuvenating modified flow practice, ending with a spacious hips and hamstrings sequence.