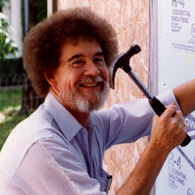 Bob Ross' Top 3 Painting Tips for Beginners
by
Bob Ross
as seen on
Best of the Joy of Painting
Bob Ross' Top Three Tips for...
Organizing Your Paint Palette:
Every time you set up to paint, begin with this helpful tip from Bob Ross Inc. "Form the habit of placing your paint colors in the same location on your palette every time you paint ... you can spend an unbelievable amount of time looking for a color on an unorganized palette.
Keeping Your Hands Clean:
To solve the problem of keeping your hands clean while you paint, apply a nice thick, rich hand lotion to your hands
before
you start painting. When you are done, simply wash your hands with warm soapy water: no excessive rubbing, scrubbing and scouring of your skin is needed.
Saving Unused Oil Paint:
You can save unused oil paint for several days if you cover your palette with plastic wrap or foil. For longer periods, cover and freeze. And try this: scrape your unused paint off the palette with your painting knife and put each color into an empty little camera film container — a nice tight seal and ready for your next masterpiece!
Happy Painting!