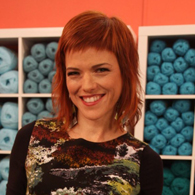 Vickie Howell
Vickie Howell is a knit, crochet, and craft evangelist with a penchant for pop culture, creative parenting, and social media marketing.
Vickie is most well-known as the host and creative consultant of DIY Network & HGTV's show,
Knitty Gritty
, her best-selling craft books, and her accessible, inclusive approach to nurturing the creative community via print, video and social media. She's continued to rally the crafty troops through her work as the International Spokesperson & Creativity Guide for the largest, North American yarn company, Yarnspirations, and knitting with viewers nationwide as the host and co-executive producer of public television's Knitting Daily.
Vickie is a board member of the Central & South Texas Chapter of the Epilepsy Foundation and the founder of Purple Stitch Project to benefit children with seizure disorders.
All of Vickie's creative endeavors along with her husband, Dave Campbell's movie news site, Smells Like Screen Spirit, are housed under their company Craft.Rock.Love Media, LLC.