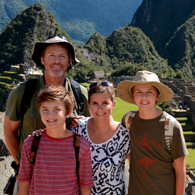 Simmons Family
The Simmons family experiences the fun, and challenges of travel just like any other family, only in front of a camera. Jeremy and Carrie (aka Dad and Mom) have been traveling together for the past 25 years, including an eight-month backpacking journey around the world visiting the continents of Asia, Africa, Europe and South and North America, and have now added their kids to the mix.
Nathan made his first trip abroad to Morocco, Spain and Ireland when he was less than one year old and Seamus had visited seven countries by the time he was three. They have been filming
Travel With Kids
for the last 14 years and have visited 45+ countries and many U.S. states. They believe that traveling together gives them a chance to grow and learn as a family and brings us closer as well as giving the kids a great education and outlook on the world as a global community.
In filming
Travel With Kids
, they have earned valuable insight about the best ways to travel as a family and how to avoid the pitfalls. In addition to featuring the history and culture of a destination, they highlight the family-friendly activities and offer practical tips like how to make the best use of packing space, how to get the kids excited about museums and how to prepare the whole family for a trip abroad. To learn more about the Simmons family, visit their
website.