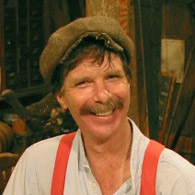 Roy Underhill
Roy Underhill hosts, writes and co-produces
The Woodwright's Shop
, which he created nearly three decades ago.
In that time, he's also added a number of other job titles to that of woodworker—teacher, lecturer, consultant, author, entertainer and historian. Ever-creative, he always engages his audiences—from serious woodworkers to weekend crafters, as well as those who simply enjoy his show and have no intention of risking splinters. Roy's formidable woodworking skills, passion for teaching and irrepressible charm result in part history lesson, part spontaneous entertainment.
In addition to his television duties, Roy spent 17 years at Colonial Williamsburg, engaging visitors from around the world in living history—equipping them with tools to discover the wisdom of their ancestors. Today, Roy still conveys his enthusiasm for history, innate ingenuity and sweat equity to his devoted fans, regardless of their skill levels.
Witness the wisdom of the past with Roy Underhill in
The Woodwright's Shop
.