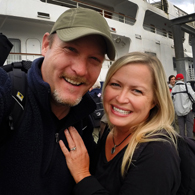 Nikki and Dusty Green
The year was 2007.
Fed up with the modern-day "rat race" and longing to find more excitement and more meaning in their lives, Nikki and Dusty Green did the unthinkable. They quit their high-paying jobs, sold their house, their cars and all of their belongings, stuffed what little they had left into a couple of backpacks, and set out to explore the world together.They had no long term plans, no safety net, and no guarantees. But they had a love of travel, a thirst for adventure, and a dream of seeing the world. And most importantly, they had each other. And
Two for the Road
was born.
For almost a decade now Nik and Dusty have been traveling the globe, exploring our planet's most incredible places, experiencing its most thrilling adventures and soaking up its many fascinating cultures - all the while, sharing their experiences through their award-winning travel videos, photos and blogs. And now they are bringing their inspiring story - and their action-packed life of travel and adventure - to television, with
Two for the Road
.