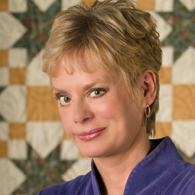 Nancy Zieman
Nancy Zieman — author, pattern designer, business woman, home economist, and national sewing authority — hosts the popular show
Sewing With Nancy
®, which appears exclusively on public television stations across the United States and Canada.
Sewing With Nancy
® is a co-production of Wisconsin Public Television and SWN Productions. Broadcast since September 1982, the program is the longest-airing sewing series on television. Nancy organizes each show in a how-to format, concentrating on step-by-step instructions.
Nancy has written numerous books including Machine Embroidery with Confidence, Sew with Confidence, 10•20•30 Minutes to Sew for Your Home, Sew Gifts with Love, Sewing With Nancy's Favorite Hints, 10• 20• 30 Minutes To Quilt, Let's Sew!, 501 Sewing Hints, 10• 20• 30 Minutes To Sew, The Best Of Sewing With Nancy, Sewing Express, Fitting Finesse, Sew Easy Embellishments, Essential Sewing Guide, and Quick Gifts and Decor. In each book Nancy emphasizes timesaving sewing, quilting, and embroidery techniques that produce professional results.
Nancy also designs patterns for the New York-based McCall Pattern Company. Her distinctive patterns are found under the Sewing With Nancy® collection. She offers fresh creative fashion and home décor ideas, along with timesaving construction tips.
In addition, Nancy is founder and president of Nancy's Notions®, a division of Tacony Corporation. The company publishes the Nancy's Notions® Catalog, a full color catalog containing hundreds of products including sewing books, notions, videos and DVDs, fabrics, and quilting products. Nancy's Notions maintains a Web site, www.nancysnotions.com, offering customers and Internet surfers additional products not found in the print catalog, along with carefree browsing and easy ordering—all while maintaining exemplary customer service.
Nancy was named the 1988 Entrepreneurial Woman of the Year by the Wisconsin Women Entrepreneurs Association. In 1991, she received the National 4-H Alumni Award. She is a member of the Direct Marketing Association, Hobby Industry Association, and the American Home Sewing & Craft Association.