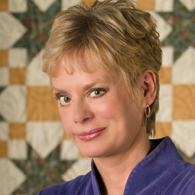 Nancy Zieman
Nancy Zieman (June 21, 1953 – November 14, 2017) was an American author, designer, businesswoman, TV producer, blogger and national sewing authority, and host of the popular show Sewing With Nancy®, which appears exclusively on public television stations across the United States and Canada. You can watch Sewing With Nancy® online at nancyzieman.com.
Sewing With Nancy® is a co-production of PBS Wisconsin and Nancy Zieman Productions. Broadcast since September 1982, the program is the longest-airing sewing series on television. The first Sewing With Nancy® programs aired on cable TV. Initially, the programs were videotaped in Nancy's living room with a camera crew of one person and long 13-hour taping days. In the early years, Nancy ran a one-woman show developing the scripts, sewing the samples, and taping the programs.
Every episode of Sewing With Nancy®, was organized by Nancy in a how-to format, concentrating on step-by-step instructions, with scripts written by Nancy. Other than the early years, a team assisted Nancy with planning the program, developing the samples, and writing and illustrating the books. Nancy frequently quipped, "The show should really be called Sewing With Nancy, Donna, Pat, Kate, Diane, Laure, Lois, Sharen, and Deanna".
Since 1992, Wisconsin Public Television in Madison, Wis. has been Nancy's partner in television production with Laurie Gorman serving as the executive director for the past 25 years as Nancy no longer writes blog postings, books, patterns, etc.
In addition, Nancy is founder of Nancy's Notions®, a direct mail business she started at her kitchen table and grew to a direct-mail catalog featuring hundreds of products including sewing books, notions, videos and DVDs, fabrics, and quilting products. Nancy's Notions was sold to the Tacony Corporation in 2003, and later sold to Missouri Star Quilt Company in 2020. Nancy was also the National Spokesperson for Baby Lock sewing machines and Nancy's Notions®.
Nancy founded Nancy Zieman Productions in 2007. PBS Wisconsin and the Nancy Zieman Productions team co-produce The Best of Sewing With Nancy® series and The Great Wisconsin Quilt Show – held each September in Madison, Wis. Deanna Springer, Vice President of Nancy Zieman Productions, has worked alongside Nancy since 1989. Nancy and Deanna started Nancy Zieman Productions, LLC. (NZP) in 2007. Deanna worked closely with Nancy as marketing coordinator, business manager, co-director of video production, and in product development and project design. Over 12 exciting years, Nancy, Deanna, and the NZP Team launched a new BLOG, social media channels, 40+ sewing and quilting products including tools, patterns and books for The McCall Pattern Company, Riley Blake Fabrics, and Clover. Deanna and the NZP Team are proud to carry on Nancy Zieman's legacy by continuing to develop new sewing tutorials, project inspiration, and exclusive products featuring Nancy Zieman's innovative techniques. Team NZP shares Nancy's love of sewing through tutorials at the NZP Blog, on NZP Social Channels, on the Stitch it! Sisters video series, and through offering Nancy's timesaving tools, patterns, books, and more available for sale at ShopNZP.com.
The Wisconsin Women Entrepreneurs Association named Nancy Zieman the 1988 Entrepreneurial Woman of the Year. In 1991, Nancy Zieman received the National 4-H Alumni Award. Nancy Zieman was elected as the first member of the Sewing Hall of Fame in 2001. In 2013, the University of Wisconsin-Stout honored Nancy Zieman with the Distinguished Alumni Award. The University of Wisconsin-Extension 4-H Youth Development Program inducted Nancy Zieman, with honors, into the Wisconsin 4-H Hall of Fame in 2014. Nancy Zieman was inducted into the Wisconsin Broadcasters Association (WBA) Hall of Fame on April 29, 2020.
Nancy lived in Beaver Dam, Wisconsin, with her husband, Richard. The couple have two children and four grandchildren.