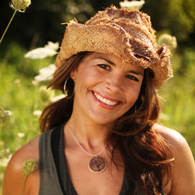 Michele Beschen
This energetic, everyday gal knows the power of creativity and the rewarding self-fulfillment that comes from doing things with your own two hands. Combine that with an enthusiastic passion for nature, authenticity, and vibrant healthy living, and you have an artisan/entrepreneur dedicated to building a business that reconnects people with the innate desire to live a naturally creative, organic lifestyle.
Creating goes hand in hand with natural living because it empowers us to do for ourselves, be resourceful and self-reliant, while also keeping us in good health both physically and mentally. It reinvigorates the conscientious, can-do spirit in us all and she has made it her life's work to share the simple ways to get there with refreshing ideas, stories, and approachable DIY projects.
Her journey to date has included growing up in an incredibly creative, nature-oriented family, a 9-year career in broadcast television at the local FOX affiliate, and the start of her own company Simply Michele, Inc. (SMI) in 2002. SMI is a multimedia company on a mission to empower people to explore, express and exchange fresh ideas through rousing content platforms built around originality and grassroots efforts. The fearless, hands-on approach to embracing a healthier, creative lifestyle herself and in turn sharing those ideas with others, enabled her to combine professional experience with personal passions. She creates a multitude of original how-to projects and content along with engaging creative lifestyle television programs all from her own backyard. She launched the company's first series
Michele Beschen's Courage to Create
in February 2003. That product evolved into the how-to series
B. Original
on DIY Network and HGTV in 2006.
Her latest series,
b. organic with Michele Beschen
, takes the creative lifestyle to the next level with all-encompassing projects and ideas that also celebrate nature, good health and the many, many shades of green. This program airs on public television stations across the country and internationally.
Viewers have come to expect a series of creative ventures that are fresh, playful, and unpredictable. Michele was named one of Multi Channel News 2007 On-Air Women to Watch and is gaining momentum as a content provider for other national outlets like
Good Morning America
and the
Rachael Ray Show
. Her enthusiastic, real-life approach to creative living can be seen through her ever-growing popularity with
Do It Yourself Magazine
, her signature DVD collections and other media outlets. This curious mind, courageous soul, and creative spirit calls Madison County, Iowa home with her husband Jon and daughter Madeline.