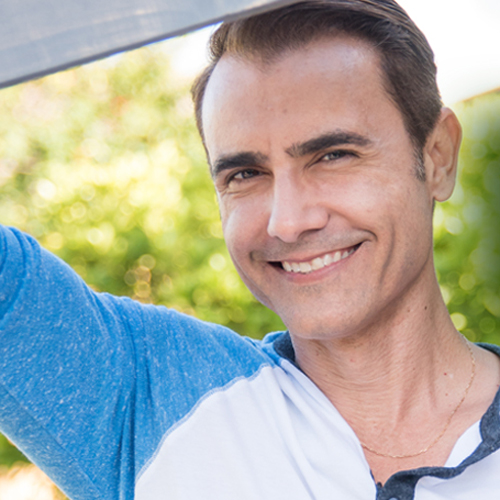 Martin Amado
Martin Amado is a TV personality, interior decorator, lifestyle expert, and author and the Grand Prize Winner of the first national Create Crafts Challenge 2020. With the launch of his digital series DIY with Martin Amado on CreateTV.com, Martin brings to life his passion for applying his skills and knowledge to help customize a home to the homeowner's style.
Viewers across the country and in South Florida may well recognize Martin. He is a host/design expert seen nationally on ION Television and contributes design segments to Telemundo's news magazine program, Al Rojo Vivo, and their morning program, Hoy Día. For more than 16 years, viewers in South Florida have become familiar with his work on the design show, SoFlo Home Project, which aired on WPLG Local 10, an ABC affiliate. His work was also on the home makeover segment, Room for Improvement, on WSVN 7 News, a Fox affiliate. Martin is also a home contributor on NBC's 6 In The Mix and Acceso Total on WSCV Telemundo 51, both airing in South Florida.
In addition to his work in the general market, Martin has been featured on numerous Spanish Language media platforms airing nationally in the United States and throughout Latin America. His first decorating book, One-Day Room Makeovers is available now in bookstores nationwide. Martin works exclusively with his clients through his home styling company, The WOW Factor!, Inc. Born in Miami, Florida, Martin first learned about transformational DIY projects when he worked side-by-side with his dad who was a residential contractor in South Florida. By the time he was a pre-teen, Martin was taking the lessons he learned on the construction site and bringing his creativity into his bedroom, where he would paint, rearrange his furnishings and add self-made accessories. He says it made him feel "different, more relaxed and more at home" in his space. Since then, he has been hooked!
With a degree in broadcast journalism from Florida International University, Martin also pursued an acting career as a lead in commercials. A part-time retail job as a visual merchandiser where he created home goods store displays led to private decorating clients and seemed to tie into a growing national interest in television lifestyle programming. He decided to merge his two interests: television and his DIY sense. Aware of the lifestyle genres featured on local commercial cable TV and South Florida PBS, Martin saw an opportunity which he has continued to pursue. That interest brought him to Create TV, where his knowledge, skills and genuine enthusiasm won the national competition. The grand prize included not only the presenting of this 10-part digital series on CreateTV.com's popular lifestyle website, but money and equipment to produce these episodes.