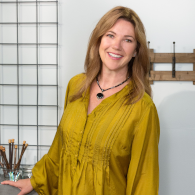 Lena Skvagerson
A key figure in the modern knit and crochet industry,
Lena Skvagerson
is the co-host of Create TV's popular series
Knit and Crochet Now!,
seen on public television stations across the America. Born and raised in Sweden, Lena worked for a leading European yarn company for 25 years before moving to America to become a television host and instructor at Annie's Creative Studio. As a teacher, Lena guides her students to become faster and more efficient knitters and crocheters by sharing her favorite tips and tricks, as well as full-length garment tutorials. In 2019, Lena published two books:
A Gansey Crochet Home
and
Magic Ring Slippers
, both turning into immediate best-sellers.