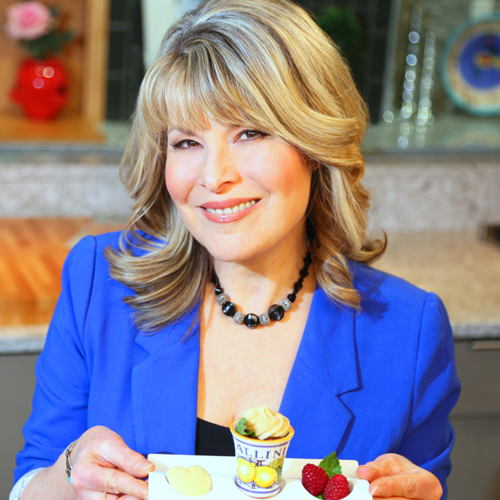 Laura Theodore
Laura Theodore is a television and radio host, vegan chef, sustainable lifestyle blogger, compassionate cookbook author, and award-winning jazz singer and actor. She is the proud creator of the
Jazzy Vegetarian
, and author of
Jazzy Vegetarian: Lively Vegan Cuisine Made Easy and Delicious
.
Laura is the on-camera host, writer, and co-producer of the
Jazzy Vegetarian
television show on Public Television. She hosts the weekly show,
Jazzy Vegetarian Radio
, a talk/music format that focuses on delicious, easy to prepare, plantbased recipes, eco-entertaining tips, celebrity interviews, and upbeat music, served up with a bit of fun on the side!
Ms. Theodore has made guest appearances on ABC, NBC, CBS, USA, Public Television, and America's Talking Networks. She has been featured in The New York Times, USA Today, The New York Daily News, The New York Post, People, Family Circle, JazzTimes, Variety, and Time Magazine, among others.
Laura began eating vegetarian over twenty years ago when good plant-based recipes were hard to find. She began creating healthy recipes, based on the familiar tastes in cherished family dishes handed down for generations. Ms. Theodore began her personal journey into the world of vegetarian cooking when she started working with Marcy Baskin, author of "Hingham Grain and Spice Cookbook." In New York City, Laura counseled with nutritionist and life extension specialist, Oz Garcia, Ph.D. She became intrigued with developing accessible recipes based on classic American dishes, using vegetables, fruits, whole grains, nuts and non-animal proteins.
As an award-winning jazz singer and songwriter, Laura has recorded six solo CDs, including her award-winning disc, "Tonight's the Night," which received a Musician Magazine Award. Her 2009 CD release with the late, great Joe Beck entitled "Golden Earrings," was selected to appear on the 52nd Grammy Award list in the category of "Best Jazz Vocal Album." Laura has toured throughout the country, performing at numerous major events, such as Night of 100 Stars, Fire and Ice Ball, and The American Film Awards. In addition, Laura Theodore was host of the Manhattan Cable Network TV show "All That Jazz," which ran for six years.
On the acting side of things, Laura has appeared in over sixty plays and musicals including Off Broadway for two years in the hit show "Beehive," which earned her a coveted Backstage Bistro Award. She was honored with the Denver Critics Drama Circle Award as "Best Actress in a Musical," for her starring role as Janis Joplin in the World Premier Production of "Love, Janis."
A love for good food, compassion for animals and enthusiasm for great music has created a joyous life path for Laura Theodore, The Jazzy Vegetarian.