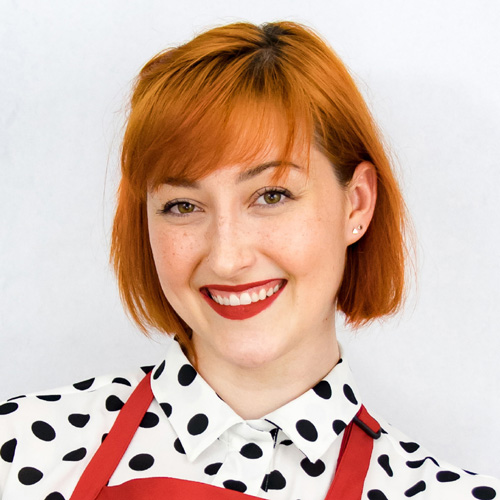 Kiya Schnorr
Create Cooking Challenge grand-prize winner Kiya Schnorr, a professional photographer, blog writer/editor, and dancer, is passionate about food! Kiya was a resident of New York City when she created the video entry which helped her win the Create Cooking Challenge in 2018. Just three months later she and her husband relocated to Seattle, Washington, saying that though they enjoyed being New Yorkers for six years, they wanted to follow their dream of having a garden, so moved cross-country. Once settled in her new home, Kiya set out to shoot her web series featuring a number of recipes which were among her favorites. Though the kitchen was new, she presented them in keeping with tried and true techniques she had used many times.
Although trained as a dancer, Kiya has always been interested in food. She got her start in the kitchen at a young age, cooking Italian food with her mother. Growing up in South Florida, she became curious about Mexican and Cuban influences in local cuisine, soon discovering the rich spices which complement Caribbean recipes. That opened a world of new flavors to her palate. After first using recipes exactly as written, Kiya then created her own versions, adding unique spices to add the 'heat' she loved. By the time she was majoring in Dance at Florida State University (FSU), she was experimenting with her newfound interest, cooking for herself and friends.
Kiya started with ballet when she was four years old, joining a South Florida dance company at 16. At FSU, she broadened her horizons, learning different dance techniques as well as video production – a skill which would help her produce her first entry in the Create Cooking Challenge in 2017 (roast chicken was the recipe!). After graduating from FSU, Kiya's interest in dance took her to New York where she joined a local studio as a barre instructor and she and her best friend formed a dance company of their own, performing around the City for about three years. The long days were made easier when she could get home and cook. Ultimately, she realized it was time to change her focus to her other passions – cooking, writing her blog and photography, when her dancing and teaching commitments began to 'get in the way' of her time in the kitchen.
While in school, Kiya studied video production and photography – learning about being on both sides of the camera. Just as she has with her cooking, outside of school Kiya has grown more secure as a photographer, eventually gaining a strong sense of her own style and what most interests her, including stop-motion video production. Being able to combine her photo and video knowledge with her food preparation helps her both build personal recipes and show the finished products.
Kiya and her husband, Chris, met at FSU at a Florida sushi restaurant where Chris worked. His first words to Kiya – 'just get the red curry' – still rings true for them today. They later married in New York, and continue to share a love of hot spices.
Always curious in new techniques and in finding out more about how recipes come together, Kiya has a deep interest in culinary 'self-education.' As she was spending more time in her Seattle kitchen, she started developing new recipes for her blog. She was also building on her approach to cooking as a participant in DIY classes in a local Seattle school. Encouraged by new ways to prepare these dishes, Kiya has provided additional tips you will find within her recipes. These tips sit alongside her original methods, including new techniques she hopes viewers will consider. As you watch the videos, be sure to refer to the recipes for these suggestions. Kiya says she remains curious, always eager to learn more about preparing a recipe in a different, unique way. She encourages viewers to be open to new ideas as they use not only her recipes but those of others, making each their own! For the recipes featured here, click on the link above.
Find more recipes from Kiya at her website: https://kiyafries.com.