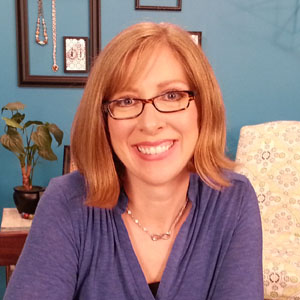 Katie Hacker
Katie Hacker is an artist and writer who started designing her own jewelry as a teenager when she couldn't find fashionable clip earrings for her un-pierced ears. She turned her pastime into a business and now makes a living doing what she loves best - making jewelry and sharing her ideas.
A prolific author whose books have sold more than half-a-million copies, Katie has provided beading advice for 22 seasons first, as the presenter of "Beading Lessons" on
Beads, Baubles & Jewels
and now as the host. Viewers connect with her approachable style and "you can do it!" attitude.
Katie regularly contributes how-to projects and articles to a variety of magazines and is a columnist for
Beadwork
. She's passionate about demystifying jewelry making and specializes in projects that are fashionable and fun. Her confident and easygoing manner helps new beaders feel less intimidated and more empowered. "I love helping people find their source of creativity through beads," Katie says. Her workshops at national venues like the Bead Fest and the Create Your Style with Crystallized - Swarovski Elements Tucson Event feature techniques for creating boutique-style jewelry.
Katie and her husband, live in rural Indiana with their sweet children, enthusiastic dog, opinionated cat, and an assortment of farm critters.