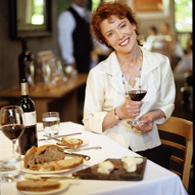 Karen MacNeil
Wine expert Karen MacNeil is the 2004 winner of the "Outstanding Wine and Spirits Professional" award from the James Beard Foundation. A well-known author and teacher, Karen has shared her wine and food knowledge around the world through print, television and in-person appearances.
The Chicago Tribune
said of her: "Think of MacNeil as your favorite camp counselor. She is bright and quick, full of energy and countless tidbits of information."
Karen is the author of the award-winning
The Wine Bible
— one of the fastest selling wine books in the United States, with more than 200,000 copies sold since it was released in 2001. Ten years in the making,
The Wine Bible
has been called the most comprehensive and authoritative book on wine written by an American author. Karen's articles have been published in more than 50 national United States magazines and newspapers including:
The New York Times
,
Food & Wine
,
Sunset
,
Saveur
,
Fine Cooking
,
Metropolitan Home
,
Playboy
,
The Wine Spectator
,
Elle
,
Mirabella
,
Food Arts
,
In-Style
,
Travel & Leisure
,
USA Today
,
Town & Country
and the
Los Angeles Times
. She has been nominated three times for the James Beard Journalism Award for "Best Magazine Writing in America."
MacNeil's frequent appearances on national television include several years as the wine correspondent for NBC's
The Today Show
. Currently she is chairperson of the Wine Department at the Culinary Institute of America in Napa Valley, CA, where she is a popular lecturer and teacher. MacNeil also is in demand as a public speaker. She conducts private wine tutorials for individuals and small groups. In addition, MacNeil conducts numerous private wine seminars for corporations. Among her clients: Oracle Corporation, American Express, Merrill Lynch, Time Warner, General Foods, J.P. Morgan, Credit Suisse First Boston, The Newspaper Editors of America and the World Presidents Organization.
With her husband Dennis, she is the co-owner of Fife Vineyards in Napa Valley.