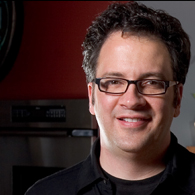 John Pence
For John Pence, the road to becoming the triple threat of chef/proprietor/entrepreneur really began at the age of 20. Growing up in Chester, New Jersey with six siblings and a mother that overcooked most meals, cooking for a living was just not something that initially came to his mind while watching his father barbecuing. While watching the chef one day, John discovered that he had an interest and an aptitude for cooking. The chef quickly recognized the young man's talents and was soon mentoring him. With John's excitement and enthusiasm for cooking growing daily, his mentor encouraged John to apply to the Culinary Institute of America (CIA) at Hyde Park where he was accepted into the two-year program in 1982. There was nothing that John encountered during his two years at the CIA that he didn't love, especially meeting his future wife, Caprial.
When John graduated in 1984, while interviewing for positions in Seattle where he would soon join Caprial. His first position in Seattle was at the French bistro, Crepe de Paris, before being wooed away by Fullers, at that time, Seattle's most prestigious restaurant. After his son's second birthday, an opportunity presented itself to return to Fullers as co-chef with Caprial. Her new celebrity status meant that she was frequently traveling and the restaurant needed another top chef to maintain its consistency. For the next year, the young couple worked side-by-side, sharing the responsibilities of running the kitchen.
In late 1991, John and Caprial, who was pregnant with their daughter Savannah, started looking for a space to launch their own restaurant and simplify their lives. Wanting to move closer to family, he investigated a small bistro in Portland that was up for sale and the Pences took the plunge. As a guiding force in the conception of Caprial's Bistro, John used his business and culinary acumen to oversee the evolution of the restaurant. Focusing on Pacific Northwest seasonal produce, seafood, poultry and game, the multiethnic menu includes many dishes influenced by classic French, Mediterranean and Pacific Rim cooking. From its simple origins in 1992, John has masterminded the bistro's development with his vision and many talents. In 1998, he oversaw the restaurant's expansion to its present size; the staff has grown from eight to 50 employees.
John's business philosophy is based on his own life experience: "create your own opportunities; provide a great atmosphere for people to work and be part of it yourself." With a thriving business, a wonderful family and home, John is enjoying the fruits of his work while giving back to his employees, customers and his community.