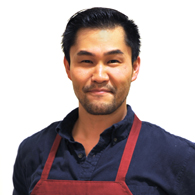 Jaime Isobe
Jaime Isobe, the 2016 Create Cooking Challenge Grand Prize Winner, had a good year. This self-taught cook wowed the Create Cooking Challenge Final Judges with his energy, informative presentation, obvious comfort in the kitchen and an approach that teaches viewers how to use his recipe many ways. For his outstanding performance, Jaime won $1,000 to finance the completion of a web series of 10 episodes now appearing on CreateTV.com/challenge.
Jaime, a fifth-generation Japanese American who was raised in Alabama, learned about the Create Cooking Challenge when his "idol" Jacques Pépin posted a note that he would be judging the contest on his Facebook page and invited his followers to enter. "I can't believe that Jacques now knows who I am," said Jaime.
Saying he "grew up in the kitchen," Jaime learned much from watching his California-born mother, "an awesome cook," and his Hawaiian father, whose specialty in the kitchen is baking bread. According to Jaime, "there is so much interest in the culture of food in the South," but he was fascinated to see how his parents used family recipes, creating meals that were very different from what was considered traditional home cooking in Alabama.
Influenced by watching some of public television's most revered chefs – notably Julia Child and Jacques Pépin – Jaime enjoyed sharing his family's take on traditional food with his friends as early as high school. His love of food never changed, though he balanced his late high school and undergraduate college years with a mix of philanthropic service, including disaster service in Thailand, medical missions to Peru and support for Habitat for Humanity.
Jaime, who received a Bachelor of Arts in Music from Birmingham-Southern College is a musician, and compares his approach to cooking much like how he plays his guitar: "certain sounds and notes achieved when playing my guitar make me think of how you blend spices and colors to achieve interesting tastes in the kitchen," he said.
Jaime continued his education at New York University, attaining a Master's degree in Music Business, which has led him to his current position at Stage 48, a concert and performance venue where he serves as the manager for promotional events, concerts and marketing. In his downtime, Jaime plays his guitar and, when not at home hosting dinners with friends, he can be found alternating between attending concerts to hear both emerging artists and established performers and pursuing active, outdoor exercise. Jaime loves to cycle and run, exploring the trails and beaches in and around New York City.
Adding to his exciting pursuits in the kitchen and his music business, Jaime was married in late 2016. Though his wife is not a chef, according to Jaime "she says she has a clear role eating what I prepare and helping me clean up my mess!"
Jaime's web series, ISOBE FOOD, provides a good sense of his philosophy about food and culture. As he says, "Some is traditional, but some represent unusual combinations."