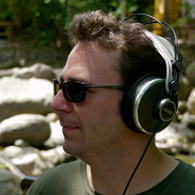 Jacob Edgar
While some in A&R (Artists and Repertoire) are content to sit behind their desk, buried in demo tapes,
Jacob Edgar
breaks the mold. As the President of the acclaimed world music record label Cumbancha, the main A&R consultant for Putumayo World Music, Edgar is a global explorer with an insatiable curiosity for the diverse ways in which people express themselves through music.
Edgar's adventures have taken him to Cuba, Brazil, Greece, Mexico, Turkey, Colombia, Australia, India and dozens of other countries, not to mention hundreds of the world's greatest international music festivals, showcases and performance venues in search of exceptional musical talents.
An ethnomusicologist, cultural historian and music critic, Edgar serves as the main music researcher for the acclaimed world music compilations label Putumayo World Music, contributing songs and liner notes to more than 100 Putumayo collections. Since he joined Putumayo in 1998, Edgar has helped produce CD collections that have sold more than 10 million units worldwide.
In 2006, Edgar founded the record label Cumbancha, which was awarded the Top Label Award at WOMEX (the World Music Expo) in just its second year of eligibility. Cumbancha artists include: Malian star Habib Koité, Israel's cross-cultural mavericks The Idan Raichel Project, Afro-Peruvian adventurists Novalima and the late Garifuna music advocate Andy Palacio.
The main motivation for Cumbancha sprung from Edgar's desire to work more closely with some of the most extraordinary artists. "We often say at Putumayo that doing compilations is like dating, and signing artists is like getting married," says Edgar. "After years of flirting with some of my favorite artists, it's nice to finally make some commitments and settle down!"
While pursuing his undergraduate degree at Oberlin College, where he double-majored in History and Latin American Studies, Edgar conducted field research on music and society in Central America. His love of music took him to the West Coast where he received the Mellon Fellowship in the Humanities and graduated from UCLA in 1994 with a master's in ethnomusicology.
For a time, Edgar was a professional trumpet player performing primarily salsa and Afro-Cuban music. Prior to his position at Putumayo he was the Label Director for Tinder Records, an independent world music record label. He has written for
The Beat
,
Global Rhythm Magazine
,
The LA Times Book Review
and other publications, and was the host of the radio program
Uncompass
on the San Francisco radio station KALW.
Edgar lives in the small town of Charlotte, Vermont with his wife Deirdre and daughters Simone and Schu˙ler. He runs his enterprises from an antique, refurbished barn nestled amidst the picturesque Green Mountains. Also on the property is Cumbancha's partner company, Lane Gibson Recording and Mastering, one of the most revered recording studios in New England. The studio has attracted artists from near and far to craft their music in a unique and magical setting.