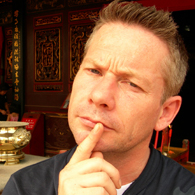 Ian Wright
Globe-trotting Englishman Ian Wright has packed a great deal of travel and adventure into his life. Before presenting
Globe Trekker
, Ian spent three months in Guyana with Operation Raleigh, a Prince's Trust initiative, traveling in a self-made bamboo raft down uncharted rivers. He spent three months in Egypt, seven months traveling around India and Nepal, and six months traveling around Europe including Poland and Romania.
An accomplished artist and theatre performer, Ian has had an exhibition of his paintings at Chats Palace. He also devises plays in schools, runs drama and art workshops at the Children's House in Islington on the weekends, and works with children with behavioral difficulties in special schools. After leaving art school, his 'odd jobs' included working as a cycle courier and making and selling crafts, jewellry and homemade jams at Spitalfields Market in East London. He currently lives near here with his wife and family. To relax, Ian enjoys playing football, eating out, and going for walks in the English countryside.
Suffolk-born Ian has traveled all around the globe presenting
Globe Trekker.
"Comforts don't interest me," he says. "The sort of trips I go on are all about living cheap and getting dirty which is how I like it."
On three occasions, Ian has won the prestigious U.S. Cable Ace Awards for Best Magazine Host for his Morocco, Central Asia, and Ethiopia shows.