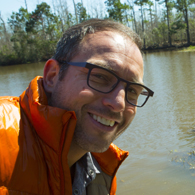 Eric Dowdle
Charismatic
Painting the Town
host Eric Dowdle is one of America's most renowned folk artists and an avid traveler. His original canvases are coveted by art collectors around the world and the iconic images he creates sell millions of copies a year, in the form of prints and puzzles. Raised in Wyoming, Eric started painting in his early 20s, parting ways with college after one year, to "go make something happen", which he subsequently did – traveling, exploring and painting his way around the United States and then around the world, expanding his ever growing collection of, to date, almost 300 paintings. His art in one form or another has reached and delighted millions of people.
His years of travel experience combined with an infectious personality has led to the creation of the public television travel series
Painting the Town
.
Eric's research has taken him everywhere around the world, from Kenya and China to the South Pacific and Europe – but a large part of his heart has always remained at home, where he constantly travels to scores of towns and cities all across the North American continent, meeting the local people, hearing their stories, learning about their history and sampling their food and culture – all of which he then incorporates into a stunning work of art. Eric's journeys combine travel, history, storytelling, art and an element of spontaneous detective work that always reveals a few surprises along the way.