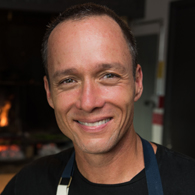 Ed Kenney
Family Ingredients'
Ed Kenney is a successful restaurateur in Hawai'i who had no idea he wanted to be a chef – or a TV host.
After college, Kenney spent a year backpacking the globe, immersed in culture and contemplating life. It was on a street corner in Hanoi over a steaming bowl of pho that his revelation occurred: "Food is the unifying fabric of humanity, connecting us to the earth and each other." From that point forward, a new path was forged.
  With a strong commitment to farm-to-table cooking, he opened his first restaurant, Town, in 2005 to rave reviews. Today, his four restaurants – Town, Kaimuki Superette, Mud Hen Water, and the newly opened Mahina & Sun's – are lively gathering places guided by the mantra "local first, organic whenever possible, with aloha always."
Kenney is committed to supporting local farms like MA'O Organic Farms and showcasing local ingredients and traditional Hawaiian canoe crops, like kalo (taro) and 'ulu (breadfruit) on his menus. For the past decade, he has been a respected leader in the local food community and has helped propel Hawai'i cuisine back into the national spotlight.
The James Beard Foundation has named Kenney a semi-finalist for Best Chef: West each year since 2013. He has cooked for First Lady Michelle Obama and been featured in top publications like Food & Wine, Bon Appetit, Saveur, Conde Nast Traveler, and Travel + Leisure. 
His crowning achievement, to date, is his family – wife, Spanky and kids, Celia and Duke.