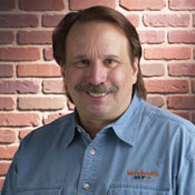 Donald Peschke
With a table saw, his life savings, a little frustration and a dream, Donald Peschke published the first issue of
Woodsmith
magazine in 1979. Within 10 years his entrepreneurial efforts paid off, as the publishing company he founded landed twice on
Inc.
magazine's list of the 500 fastest-growing privately-owned companies in America. August Home Publishing Company currently publishes five national award-winning magazines:
Woodsmith
,
ShopNotes
,
Garden Gate
,
Cuisine at Home and Workbench
. The company also provides home centers and woodworking stores across the country with Woodsmith tools, plans, and hardware kits; operates The Woodsmith Store, a dream store for woodworkers; a mail-order business; and a media group producing the public television series Woodsmith Shop.
In 1978 at 30 years of age, Peschke was a frustrated, beginning woodworker. He wanted a magazine that showed how to build projects, step-by-step, down to the last detail, in down-to-earth language; but that magazine didn't exist. So he quit his job and started to produce it on his own. The first issue of
Woodsmith
magazine was only eight pages, with no advertising. Peschke designed and built projects in his basement shop, wrote the instructions, and learned how to draw the illustrations. He used his life savings of $7,000 to print and promote the first issue. Thousands of like-minded woodworkers appreciated his efforts; thus the Woodsmith Publishing Company was born.
For the first 14 years the company concentrated on woodworking. After launching
Woodsmith
magazine in 1978, the Woodsmith store opened in 1985 and also began a tool and mail-order hardware store for its readers. The magazine
ShopNotes
was launched in 1992 and expanded the company's interest in publishing.
Garden Gate
, a home-gardeners magazine, was launched in 1995. This was followed in 1996 with the purchase of
Workbench
, a 40-year-old home improvement and woodworking magazine. In the same year, Cuisine, a magazine for those who love to cook, was launched. As the company began branching to other interests, Peschke renamed it to August Home Publishing to reflect its mission to publish guidance and inspiration in four core areas: woodworking, gardening, cooking and home improvement.
August Home has strategically positioned itself for the "information age" and remains committed to providing the highest-quality information for those who enjoy creative endeavors in their home.