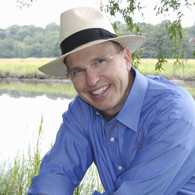 David Dunlop
Artist and teacher David Dunlop is the engaging host and writer of the television series
Landscapes Through Time with David Dunlop
.
David is a modern-day master whose luminous landscapes draw from both Renaissance techniques and contemporary science. His paintings have been shown internationally and are held in the collections of major corporations, including Aetna Insurance, Citibank, Colgate Palmolive, Delta Airlines, GE Capital Corporation, IBM, Mobil and more. Galleries and institutions have granted David solo shows since 1981. In early 2008, shows included "Oil Paintings on 23K Gold Leaf, Aluminum, Steel & Copper" at the Attic Gallery in Portland, Ore., and "Landscapes Through Time" at The Weatherburn Gallery in Naples, Fla. The Southern Vermont Arts Center, Manchester, Vt., also hosted an exhibition of David's work in August 2008.
In 2007, David and his son Max won the Revington Arthur Award at the 58th Annual Art of the Northeast exhibition. In 2004, David won the Jens Risom Award at the same competition, further adding to his shelf of awards. In 2000, David was chosen by New York City to paint a fiberglass cow for the Cow Parade. His cow, one of the few chosen to be auctioned, was located at 48th Street and Avenue of the Americas. David's work has been reviewed extensively and he has been featured in The New York Times.
David is in pursuit of the underlying principles of art, and has explored original sources and recent advances in neuroscience during his quest. He is eager to share his discoveries, which can be seen in the titles of his 2006-2008 lecture series for the Silvermine Guild Arts Center, located in New Canaan, Conn.: "The Invention of Modern Art," "The Mind's Eye," "How Art Invented God, The Devil, Angels, Heaven & Hell," "Secrets of DaVinci," "The Eye of the Cat vs. the Eye of the Artist: How Vision & Thought Work," "The History, Science & Religion of Color in Art: How Do We Make Color Work?," "The Rise & Fall of Impressionism," and "Cezanne & The Invention of Modern Painting: The Death of the Picture."
David's reputation as a painter who combines artistic skill, knowledge and enthusiasm prompted The Metropolitan Museum of Art to invite him to lecture on 4,000 years of landscape painting in 2005. He has been a visiting artist/lecturer at multiple institutions, including the Caramoor Museum of Art in Katonah, N.Y., the Shelburne Museum in Shelburne, Vt., and the Arizona-Sonora Desert Museum, Tucson, Ariz.
David graduated Phi Beta Kappa from the College of Wooster, located in Wooster, Ohio, and has an MFA from The Pratt Institute, located in New York, N.Y. He is on the faculty of the celebrated Silvermine School of Art in New Canaan, Conn., where he teaches painting, gives workshops and leads groups of art students to Italy, France and Japan.
David lives in Wilton, Conn., with his wife, Rebecca Hoefer.