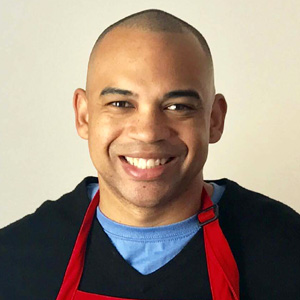 Chris Nance
Create Cooking Challenge 2017 Second Prize Winner Chris Nance, a self-taught chef, isn't new to cooking contests. He and his brother Byron – a frequent cooking partner– entered the Create cooking contest last year and just missed earning a finalist award. Determined to win, Chris entered again when he visited CreateTV.com and saw this year's contest information. Chris is a big fan of Create TV's talented public television chefs, and was "honored when … [he] saw who the judges for this year would be!"
A Southern California native, Chris is influenced by a range of tastes and flavors – including family dishes from the southern United States, St. Louis and Chicago, and fusion recipes from North Africa, France, Italy and Asia. With extended family that included multiple generations and seven children, there was always a need for help in the kitchen. Because his mother worked the night shift at the U.S Postal Service (a job now held by Chris), his maternal grandmother took the lead in the kitchen. Chris credits his grandmother and mother as his culinary inspirations. Thanks to them, he learned how to cook well and enjoy it. But, it almost didn't happen.
Chris and his older brother both loved being in the kitchen. At the age of 5, however, Chris decided to take food preparation into his own hands. A problem with a pop-tart almost ended his food career and his family's kitchen! After that incident, his mother and grandmother realized they needed to embrace that interest and teach him how cook. Since then, cooking has been not just his hobby, but his avocation.
The Create Cooking Challenge judges enjoyed Chris' video entry. Sara Moulton was pleased to share: "I learned something – a great little trick!" Lidia Bastianich also loved his "cool tricks and secrets." Kevin Belton emphasized, "it's the little details that make the dishes so important," while Steven Raichlen said Chris' "very focused idea was presented well!" Bridget Lancaster liked Chris' enthusiasm and said, "I like that he brought such detail to a simple but tricky crumb crust."
With prizes of $1,000 cash and production equipment worth $1,000, Chris has already mapped out his three-episode web series for CreateTV.com. The first item – the dessert in his three-course plan – is his grandmother's lemon meringue pie and he can't wait to share the recipe. "The original recipe is still on a piece of paper written by my grandmother," explained Chris. She was born in 1911 and that recipe may well be nearly 100 years old! The other two dishes he wants to prepare are a fusion of influences he loves – pulling from old family recipes and adding new or unusual ingredients to give them interesting flavors.
Chris has created a website called meluvfood.com where he aggregates a diverse mix of recipes, from barbecue to shepherd's pie. It is also a place where he likes to share some of the video productions he and his brother have created. While he works nights, Chris saves his days to pursue his passion: creating cooking videos with his brother, being active on social media and running a small catering business on the side. For this foodie, there is no question that he wants people to get to know him, use his recipes, and learn from his work. According to Chris, food is THE answer, whatever the question!