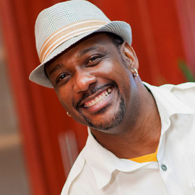 Chef Irie
Hugh A. Sinclair, better known as Chef Irie, is a South Florida resident originally from the island of Jamaica. He is a professionally certified personal chef and caterer with a passion for amazing food and great service.
Chef Irie earned a Bachelor of Arts degree in Architecture from the University of Florida in Gainesville before earning an Associate's degree in the Culinary Arts from Johnson & Wales University in North Miami.
Working at some of South Florida's Premier establishments including Turnberry Isle Resort, Charlie's Crab, Cascades and Bimini Boatyard, Chef Irie gained valuable professional experience in cuisine far beyond that reflecting his Caribbean upbringing.  Today he fuses the influence of the islands with the influence gained by his travels through Europe and the Far East, and his love of learning about cuisine from around the world.