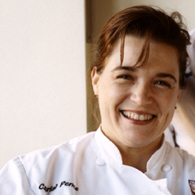 Caprial Pence
Extraordinary talent and passion, imagination, and commitment -- these are some of the words that begin to describe master chef Caprial Pence. Her fans know her as the celebrity chef and cookbook author, her weekly students as a cooking teacher, her restaurant guests as chef/proprietor and her family as wife and mother. Whatever the words, Caprial Pence has been knocking down doors in the culinary world since she was barely out of high school.
Born in Washington and raised in Portland, Caprial became interested in cooking at a young age, inspired by her maternal grandfather and her creative parents. In 1982 at the age of 19, Caprial arrived at the CIA ready to work and learn. She was one of just four women in her class. As fate would have it, she met fellow student John Pence. They soon discovered that they were opposite sides of the same coin - it turned out that John liked the administrative and business development aspects of the restaurant world - and they both had a similar love of bold flavors and simple food. Within a short time, Caprial knew that John was her soul mate, the love of her life and the perfect business partner.
John and Caprial married in 1984 and settled to Seattle, which was just beginning a culinary renaissance. Caprial soon became the poissonnier at Fullers at the Sheraton Hotel. Then fate stepped in a second time. One month after her promotion, the chef left and Caprial became the chef de cuisine at the age of 24. She began working with the small boutique farms, even though hotel management just didn't quite understand a farmer "showing up on their back doorstep with a single box of product."
In May 1988, Time Magazine heralded Caprial as "the latest star in town." She also earned the James Beard Award for Best Chef, Pacific Northwest 1990. She soon wrote the first of her many cookbooks,
Caprial's Seasonal Kitchen
, based on the seasonal cooking and orthwest ingredients that are a hallmark of her style. She also began teaching cooking classes at Fullers and was tapped as a guest chef for local television appearances. Caprial's Café debuted on the
Learning Channel
in 1994. The 65-episode series spawned a companion cookbook and still airs on the
Discovery Channel
internationally. The following year, the show moved to public television under the new name
Caprial! Cooking for Friends
, and has been airing for the past five years. The 2001 series brought John on board and was renamed
Cooking with Caprial and John
. With each new season, a new cookbook is also introduced, bringing Caprial's best-selling cookbooks to a total of seven. Caprial and John's first co-authored book,
Caprial and John's Kitchen: Recipes for Cooking Together
, the companion volume to their new show, hit shelves in June 2003.