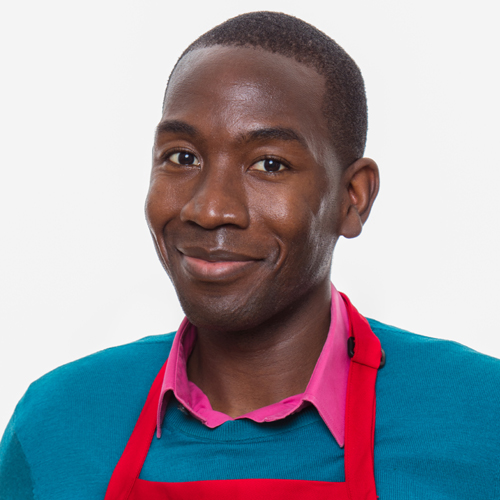 Buki Elegbede
The Create Cooking Challenge's 2017 Grand Prize Winner, 28-year-old Buki Elegbede, has long been interested in bringing his passion for food to television.
Growing up in a home with parents who believed the entire family participated in food preparation, Buki learned his way around the kitchen early. Though he was born in Manhattan, Buki's parents came from Nigeria, where, when hungry, everyone goes to the kitchen and gets cooking! Primarily a self-taught cook, Buki wowed the Create Cooking Challenge Final Judges with his energy, enthusiasm, presentation skills and baking knowledge. He can't wait to share more! The Grand Prize included a cash prize as well as production equipment to finance the completion of a web series. This series consists of 10 webisodes, premiering on CreateTV.com, where visitors will also find the Create Cooking Challenge 2016 winner's series, Isobe Food, and other top winners' videos.
Raised in New Jersey, Buki is a Journalism graduate of Rutgers University with a keen interest in getting in front of the camera. His resumé includes commercial television production, so he understands what goes on behind-the-scenes. Buki has been a fan of cooking shows and Create TV since it started 13 years ago! Although his "daytime" position is in commercial television production, Buki loves spending his spare time filling special baking requests for his small business, Baked by Buki. He draws upon his parents' Nigerian influence in some of his cooking – especially when it comes to adding spices.