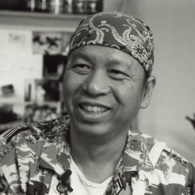 Tommy Tang
Tommy Tang's story begins in Bangkok where he was the eldest son of 12 children, leaving school at the tender age of eleven to help support his family. He held a succession of odd jobs that included a floor-fan cleaner, welder, construction worker, busboy, wheelbarrow maker, boxer, auto mechanic, tennis teacher, and drummer as well as helping his father in their restaurant in the Grand Central. During the Vietnam War, Tommy found himself surrounded by Americans as he worked the switchboard at the Windsor Hotel in Bangkok and as a bellhop at the Narai Hotel. The American sense of ambition and organization appealed to his entrepreneurial tendencies and he decided to move to the U.S. to seek his fortune.
In the U.S., in the late 70's while working as a manager of rock bands and a music producer, he took time out to complete his education at Palos Verde College in Southern California. However, Tommy found his true calling when he took a job as manager/chef at a little known Thai restaurant in Hollywood. As a matter of fact, Thai food was totally unknown to Americans at that time. The few Thai restaurants in the L.A. area were frequented mostly by Asians and a few others who fell in off the street by accident!
Within a year, thanks to Tommy's unique talents, Thai food was THE RAGE! He soon drew a loyal following which included celebrities such as Jackson Browne, Earth Wind and Fire, Queen, Orson Wells, Cher, Tom Cruise, Robin Williams, Billy Crystal and countless others. Tommy and his wife opened - to much critical acclaim - Tommy Tang's restaurant in West Hollywood in 1982 and simultaneously pioneered the famous Melrose Avenue Shopping/ Dining scene. In 1986, Tommy became the 1st bi-coastal chef in the U.S. with the opening of the New York City location. The Thai movement had now moved its way across country with Tommy, by now considered the "GODFATHER" of this immensely popular Southeast Asian cuisine, at its helm.
Twenty-three years later, legions of non-Asian chefs, restaurants and food manufacturers all over the U.S. are now duplicating Tommy's dishes: from Wolfgang Puck Cafes with Tommy's Pad Thai Noodles (4 versions no less!), California Pizza Kitchen's Thai BBQ Chicken Pizza! to four Thai-inspired dishes on Cheesecake Factory menus! His influence on culinary culture has probably been one of the most profound of this quarter century.
Tommy's 1st cookbook,
Modern Thai Cuisine
, was released in 1991. It was largely hailed as being the book that "demystified" the art of preparing Modern Thai Cuisine and eventually went into 8 printings. His 2nd cook book,
Noodles & Rice and Something Nice
was equally successful.
In 1996, public television stations came to calling for Tommy to do his own Cooking/ Travel series. Now, years later, Tommy is an established chef on public television. Today, Tommy spends much of his time raising money for the Tsunami Children Foundation he founded to help the children in Thailand who were displaced during the Tsunami tragedy.