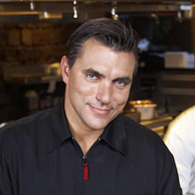 Todd English
One of the most decorated, respected, and charismatic chefs in the world, Todd English has enjoyed a staggering amount of accolades during his remarkable career. His accomplishments include recognition by several of the food industry's most prestigious publications, establishing one of the best-known restaurant brands in the nation and publishing three critically acclaimed cookbooks.
His list of culinary awards includes: the James Beard Foundation's National Rising Star Chef (1991), the James Beard Foundation's Best Chef in the Northeast (1994),
Nation's Restaurant News
named English one of their Top 50 Tastemakers (1999),
Bon Appetit's
Restaurateur of the Year (2001) and one of
People Magazine's
50 Most Beautiful People (2001). Todd has recently been named to the James Beard Foundation's Who's Who in Food and Beverage in America.
Todd is the chef and owner of his flagship restaurant Olives in Charlestown, Massachusetts. Olives opened in April of 1989 as a 50-seat storefront restaurant. It has drawn national and international applause for English's interpretive rustic Mediterranean cuisine. In recent years, English has established Olives as one of the most prestigious names in the nation by opening fi ve other locations around the world. In addition, English has launched numerous other restaurants in various locations, including Figs, Tuscany, Bonfi re, KingFish Hall, Fish Club, Todd English Restaurant aboard the QM2, BlueZoo, English is Italian, and, most recently, Riche in New Orleans.
Like English himself, his restaurants have received numerous accolades. The original Olives opened to immediate acclaim and was voted Best New Restaurant by
Boston Magazine
. Since then, it has been honored as Best Food and Top Table by
Gourmet Magazine
and is consistently named Boston's #1 Favorite Restaurant by
Zagat
. In addition, Figs was given the Hot Concept award from
Nation's Restaurant News
, and KingFish Hall was named Best of Boston by
Travel & Leisure Magazine
.
Todd English began his cooking career at the age of 15 when he first entered the doors of a professional kitchen. At 20, he attended the Culinary Institute of America and graduated in 1982 with honors. He continued to hone his craft with Jean-Jacques Rachou at New York's La Côte Basque and then relocated to Italy where he apprenticed at the well-established Dal Pescatore in Canto Sull O'lio and Paraccuchi in Locando D'Angello. It was in Italy that Todd, drawing from his Italian heritage, developed his unique style and approach to cooking. English returned to the United States at 25 and was asked to be the Executive Chef of the award-winning Northern Italian restaurant Michela's in Cambridge, Massachusetts. He served there as an executive chef for three years, garnering high praise from both the press and the public.
Some of English's television credits include the national public television series,
Cooking Under Fire
, produced by WGBH-TV in Boston, public television's
Cooking in with Todd English
,
Iron Chef USA
,
Martha Stewart Living
,
Food Network's Opening Soon
,
Bobby Flay's Food Nation
, and
The Main Ingredient
. Other appearances include:
Good Morning America
,
The Tony Danza Show
,
Extra
,
CBS This Morning
,
Live with Regis and Kelly
,
The Today Show
, VH1's
My Coolest Years
, Discovery Channel's
Party Planners
,
B Smith Style
,
Great Chefs of the Northeast
and Fox News Channel's
Fox and Friends
. Todd has authored three critically acclaimed cookbooks,
The Olives Table
,
The Figs Table
and
The Olives Dessert Table
published by Simon & Schuster. He served as the Executive Chef of the 2005 MTV Video Music Awards and in the fall of 2005 he launched his personal signature lifestyle line. Todd is very involved with several local and national charities including: Men With Heart, Big Brothers, The Susan B. Komen Breast Cancer Foundation, the Anthony Spinazzola Foundation, Share Our Strength, and the Boys and Girls Clubs.