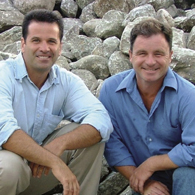 The Stone Guys,
Derek Stearns and Dean Marisco
Dean Marsico and Derek Stearns are cousins and stone craftsmen from the greater Boston area of Massachusetts. The duo grew up under the leadership of Arthur Stearns, father of Derek, uncle of Dean, and a master in the stone trade. At young ages, both Dean and Derek developed strong work ethics, which set the stage for the stonework they've completed and fine-tuned over the last 25 years in the masonry business. They offer a variety of options to their clients including brickwork, stucco, cultured stone, concrete and the specialized art of hand-cut stone.
In addition to Dean and Derek's business, they hold training workshops at the Plymouth Quarries in Hingham, Mass., where they teach homeowners how to create quality stone-scapes and other projects to beautify their homes. Dean and Derek believe that everyone has the ability to do stonework and their goal is to equip people with the knowledge and confidence to tackle all levels of stonework. Although they may banter and kid each other on the job, make no mistake that their relationship and masonry skills are Rock Solid. You can watch Dean and Derek create these amazing stone-scapes on DIY Network's
Rock Solid
. As guests on
The Victory Garden
, Dean and Derek teach viewers how to lay stone pavers, create a dry-laid garden wall, and more.