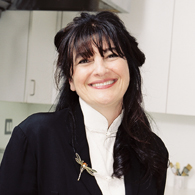 Ruth Reichl
Executive Producer, Contributing On-Air Talent,
Gourmet's Diary of a Foodie
Editor in Chief,
Gourmet
magazine
As executive producer, Ruth Reichl brings to
Gourmet's Diary of a Foodie
the unparalleled passion and world-renowned culinary expertise that she exhibits as editor in chief of
Gourmet
magazine. Working with WGBH and Zero Point Zero Productions, Ruth helps shape the provocative food stories that make up the series, bringing the flavor of the magazine into each episode. As a contributing on-air talent, Ruth, along with her team of renowned editors, offers a unique look inside the magazine's New York City test kitchens, to show viewers how they can bring fantastic finds from the international food landscape into their own homes.
Ruth joined
Gourmet
magazine as editor in chief in April 1999. She came to the magazine from
The New York Times
, where she had been the restaurant critic since 1993. As chef and co-owner of The Swallow Restaurant from 1974 to 1977, she played a part in the culinary revolution that took place in Berkeley, Calif. In the years that followed, she served as restaurant critic for New West and California magazines. In 1984, she became restaurant critic of the Los Angeles Times, where she was also named food editor.
Ruth began writing about food in 1972, when she published
Mmmmm: A Feastiary
. Since then, she has authored the critically acclaimed, best-selling memoirs
Tender at the Bone
,
Comfort Me With Apples
, and
Garlic and Sapphires
, which have been translated into 14 languages. She is the editor of The Modern Library Food Series, which currently includes 10 books. She has also written the introductions for Nancy Silverton's
Breads from the La Brea Bakery: Recipes for the Connoisseur
(1996) and
Measure of Her Powers: An M.F.K. Fisher Reader
(2000). She is featured on the cover of
Dining Out: Secrets from America's Leading Critics, Chefs and Restaurants
, by Andrew Dornenburg and Karen Page (1998). She is the editor of
Endless Feasts: Sixty Years of Writing from Gourmet
,
Remembrance of Things Paris: Sixty Years of Writing from Gourmet
, and
The Gourmet Cookbook
, released September 2004. Her lecture, "Why Food Matters," delivered in October 2005, will be published in
The Tanner Lectures On Human Values, Volume 28
, in 2006.
History in a Glass: Sixty Years of Wine Writing from Gourmet
(Modern Library), which she also edited, was published in March of 2006.
Ruth hosted
Eating Out Loud
, three specials on the Food Network, covering New York (2002), San Francisco (2003), and Miami (2003). She is a regular host with Leonard Lopate for a live monthly food show on WNYC radio in New York.
Ruth has been honored with four James Beard Awards (two for restaurant criticism, in 1996 and 1998; one for journalism, in 1994; and Who's Who of Food and Beverage in America, 1984) and with numerous awards from the Association of American Food Journalists. She is also the recipient of the YWCA's Elizabeth Cutter Morrow Award. She holds a bachelor of arts degree and a master's degree in art history from the University of Michigan.