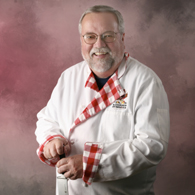 Rick Browne
Rick Browne is creator, host and executive producer of public television's
Barbecue America
, a production of Wishing Wells Productions and KEF Media Associates, Inc., currently in its fifth season.
A renowned barbecue and grilling expert, he is also the author of
The Big Book of Barbecue Sides
(Collectors Press, 2006),
Grilling America
and
The Frequent Fryer Cookbook
, (Regan Books, NY 2003) and co-author of
The Barbecue America Cookbook
(The Lyons Press, 2002).
He may be focusing on the world of barbecue these days, but Rick's first love was photojournalism. An award-winning member of the Society of American Travel Writers, he has more than 25 years of experience to his credit.
His writing and photography assignments centering on breaking news, travel and culinary subjects, span the globe and have been published in a wide variety of domestic and foreign magazines, including
Time
,
Newsweek
,
People
,
USA Today
,
Canadian Living
,
Islands
,
Travel Holiday
,
Reader's Digest
,
Maclean's
,
Sunset
,
Burda
,
AQUA
,
Wine Spectator
,
Geo
,
Diversion
,
Saveur
,
Saturday Night
and
Travel & Leisure
.
A writer, photographer, pitmaster, restaurant critic and consultant, he is also a Doctor of Barbecue, holding an honorary Ph.B (Doctor of Barbecue Philosophy) bestowed upon him by the prestigious Kansas City Barbeque Society for his expertise and commitment to barbecue. He has appeared on
Fox & Friends
, the
TODAY show
,
Live with Regis & Kelly
and CNN, and has been featured in
People
magazine and
USA Today
. In addition, he was the focus of numerous articles in both print and broadcast media during a 30,000 mile road-trip this past year promoting his books and television program.
Browne, born in Brantford, Ontario, Canada, has spent the past ten years researching barbecue across the US and Canada by visiting festivals, barbecue restaurants and interviewing dozens of pitmasters for his books and television program. In his frequent role as an editorial food photographer, he has worked with many of the world's greatest chefs including: Julia Child, Jacques Pepin, Martin Yan, Paul Bocuse, Giuliano Bugialli, Marcella Hazan, Jeremiah Tower, Joachim Splichal, Charlie Trotter, Susan Spicer and Roger Verget. His kitchen/food shots have been published in most of the world's leading food and wine magazines.
He's a member of the Canadian Barbecue Smokers Association, the National Barbecue Association, the International Bar-B-Que Cookers Association, the Kansas City Barbecue Society, the World Barbecue Association, and is a founding member of the California Barbecue Association. As a KCBS-certified barbecue judge he has judged at the Kansas City Royal, Blue Springs Invitational, Portland's Bones-n-Brew, Memphis in May, and the Jack Daniel's World Championship Invitational barbecue contests.
He and his wife of 30 years, Kate, are the proud parents of four grown children and two grandchildren, and share their Ridgefield, Wash. home with their devoted pets Spats the dog and Spoons the cat, and, of course, their 15 grills!