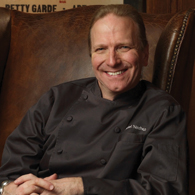 Michel Nischan
Growing up on a farm instilled in Michel Nischan a deep appreciation for sustainable agriculture and those who work the land. Today, as chef/owner of Dressing Room: A Homegrown Restaurant and regular guest on
The Victory Garden
, Nischan starts a new chapter in his ongoing story about the love of food and the people who produce it.
It was through his advocacy for a more healthful, organic and sustainable food future that Michel came to know Paul Newman's daughter, Nell Newman. Nell introduced Michel to Mr. Newman when she learned of her father's plans to become involved in a restaurant. Paul and Michel found their beliefs on food, family and community to be remarkably aligned, and Dressing Room evolved as the place where their shared values could have a common home and expression.
In keeping with their altruistic natures, a portion of Dressing Room's proceeds are used to support the adjacent Westport Country Playhouse, the establishment of culinary scholarships and apprentice programs for inner-city children, as well as a community-based edible mentorship program. In addition, Newman and Nischan are the impetus for the Westport Farmers Market at the Westport Country Playhouse, which is the town's first greenmarket (open Thursdays, June through October). Newman's and Nischan appeared on the Friday, Nov. 24 broadcast of ABC World News With Charles Gibson, and were named "Persons of the Week" for their community outreach efforts with Dressing Room and other planned activities.
Michel Nischan is credited with creating a cuisine of well-being, focused on a respect for pure, local, organic ingredients and their intense flavors – without the use of highly processed, overly indulgent ingredients. The inspiration to explore cooking for well-being came in 1994 when his 5-year- old son Chris was diagnosed with juvenile diabetes. "Chris's illness made me realize that floating on foie gras and bathing in butter might not be in the best interests of my customers," says Michel.
In 1997, Michel introduced his groundbreaking new cuisine at Heartbeat restaurant at the W Hotel, located in midtown Manhattan, and was immediately propelled to the forefront of New York's culinary scene.
Since then, he has continued to raise the bar for delicious and healthful cooking and is continually lauded for his dedication to organics, sustainability and cultural food preservation. After years of focusing on healthy, sustainable and culturally significant cooking causes, Michel decided to put his methods down on paper, writing two well-received cookbooks,
Homegrown Pure and Simple: Great Healthy Food from Garden to Table
(Chronicle Books, 2005) and
Taste Pure and Simple: Irresistible Recipes for Good Food and Good Health
(Chronicle Books, 2003).
Taste
was listed as a best-seller in
The New York Times
and
The Wall Street Journal
, and won a 2004 James Beard Foundation Cookbook Award (award winners are selected by industry peers, and more than 600 culinary professionals are involved in the voting process). Michel resides in Fairfield, Conn. with his wife, Lori, and their five children.