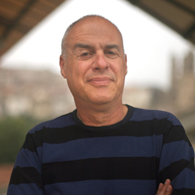 Mark Bittman
Mark Bittman is one of the co-hosts of the popular culinary road-trip series
Spain... on the road Again
.
He is one of the country's best-known and widely admired food writers, beloved for his candor, non-chef attitude, straightforward writing style and simple recipes. He created "The Minimalist," the popular
New York Times
weekly column (now in its 11th year), accompanying Web videos and daily blog, "Bitten," also hosted by the
Times
.
Bittman's best-selling
How to Cook Everything
has become the bible of basic cooking for millions of Americans; his most recent book,
How to Cook Everything Vegetarian
(recent winner of an IACP/Julia Child award and nominee for a James Beard award) was one of the best-selling cookbooks of 2007 and is on track to change the way America cooks. Bittman will push his sane eating agenda further with the release of his groundbreaking work on food, diet, and climate change, called
Food Matters
(Simon and Schuster, January 2009).
His first public television series,
How to Cook Everything: Bittman Takes on America's Chefs
, first aired in spring 2005 and won the James Beard Award for the best cooking series of 2005. His subsequent series,
The Best Recipes in the World With Mark Bittman of the New York Times
, currently airs on public television and also earned a nomination for a 2008 James Beard Broadcast Media Award. American Public Television (APT) presented and distributed both series.
How to Cook Everything
won the Julia Child general cookbook award, the James Beard general cookbook award, and three other major international cookbook awards; it also spent a record 130 weeks on the
L.A. Times
Cookbook Hot List. In the late 90s, Bittman created a best-selling collaboration with the internationally celebrated chef, Jean-Georges Vongerichten. Their classic,
Jean-Georges: Cooking at Home with a Four-Star Chef
, is widely considered among the most accessible chef's cookbooks ever published. Bittman's first book,
Fish—The Complete Guide to Buying and Cooking
, currently in its eighth printing, is the best-selling book on the subject. His other works include the blockbuster
The Best Recipes in the World
and the award-winning "Minimalist" cookbooks, now collected in
Mark Bittman's Simple and Easy Recipes from the New York Times
.