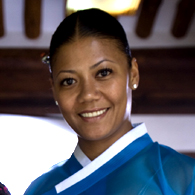 Marja Vongerichten
The host of public television's
Kimchi Chronicles
and the author of
The Kimchi Chronicles
companion cookbook, Marja Vongerichten is eager to share her passion for Korean cuisine and its approachability, health benefits and the familial spirit of the Korean table.
Marja's remarkable life story begins in Uijeongbu, South Korea where she was born to her Korean mother before being adopted and raised in northern Virginia.
Reuniting with her birthmother at 19, Marja also reconnected with her Korean family, their culture and especially their food. Her journey of rediscovery offers
Kimchi Chronicles
a distinct, personal and authentic lens.
She married world-renowned chef Jean-Georges Vongerichten in 2004 after their daughter Chloe was born in 2000. Food is absolutely the center of their home and continues to be the greatest bridge between Marja's Korean identity and her life in America. An avid home cook, Marja regularly makes her own kimchi and frequently experiments with ways to simplify and share Korean food with Chloe the rest of the Vongerichten's family and friends.
A former model and actress, Marja has appeared in films such as
Ladder 49
. Additionally, she is an aspiring interior designer who is responsible for the complete design of her family's home in Waccabuc, New York—the setting for all of the cooking on
Kimchi Chronicles
.