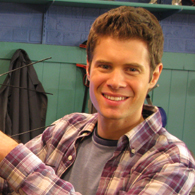 John Park
John Park,
Make:
's Maker Workshop Presenter, is a 3D animation character rigger, writer, educator, maker, proud father and husband.
Originally from New York state, now living in Los Angeles, John loves performing, hacking, and taking things apart. He's also fond of robots, beatboxing, and espresso.
John received his bachelor's degree in Drama from the University of Virginia. He now realizes that studying acting and building props prepared him well to host of the Maker Workshop segment of
Make:
.
He has worked in computer graphics since 1994 in the video game, visual effects, and feature animation industries. He is currently a Character Technical Director at Walt Disney Animation Studios.
John is a regular contributor to
Make
magazine and blogs at jpixl.net.