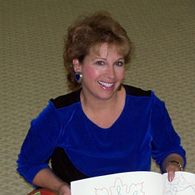 Janie Donaldson
The daughter of a remarkable seamstress and fashion designer, Janie Donaldson quickly picked up techniques at home from her mother and was already sewing by the age of three. Janie has more than 24 years of longarm quilting machine experience, and she loves to educate and help those who want to learn and experience quilting.
As a student hailing from Wisconsin, Janie was awarded a college scholarship to the University of Madrid, Spain, which opened her eyes to the architectural designs of the Old World. They have inspired many of her quilting patterns.
In 2000, Janie started
Quilt Central
, a public broadcasting television series featuring all aspects of quiltmaking, with emphasis on machine quilting. Her show has won numerous awards.
Today, Janie resides in Paducah, Kentucky, where she finds time between filming television programs to run Quilting Machines International, a major longarm training center and dealership.