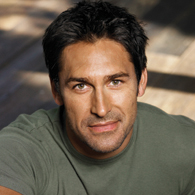 Jamie Durie
Jamie Durie is a qualified horticulturist and landscape designer and founder of the international award-winning design company PATIO Landscape Architecture and Design. He has authored five books,
PATIO – Garden Design and Inspiration
,
The Outdoor Room
,
The Source Book
,
Outdoor Kids
and
Inspired
. Two of these titles are released under his own publishing company, Jamie Durie Publishing.
Jamie is undoubtedly one of Australia's most recognizable talents – hosting many of Australia's top-rated programs, including
Backyard Blitz
,
The Block
,
Torvill
and
Dean's Dancing on Ice
, and
Skating on Thin Ice
. However, it was his role as host of TV sensation
Backyard Blitz
where he first captured and inspired the imagination of the Australian public, successfully making gardening 'hip' again. A successful garden makeover show,
Backyard Blitz
and the team have received six consecutive Logie Awards for Most Popular Lifestyle Program. He consolidated this through his role as host of two series of
The Block
– a renovation show that now airs in over 25 countries around the world.
Born in Manly, North Sydney, Jamie spent most of his childhood in the Western Australian outback mining town of Tom Price. With his mother and grandmother both Sri Lankan (born in Galle and Kandy respectively), he has inherited a love of the Sri Lankan culture and lifestyle. Like his father, and all Australians, he loves the outdoors and is passionate about nature and creating the ultimate outdoor living space. His inspiration comes from the vast natural beauty of the Australian landscape, years of extensive international travel and his passion for protecting the environment. He successfully combines these raw elements to create his own unique style in his garden designs and has truly pioneered the concept of The Outdoor Room.
Best-selling author, publisher and television host, Jamie designs his own successful line of innovative and fashionable gardening and outdoor living merchandised product.
Also, as an advocate for preserving our natural surroundings and environmental future, Jamie is an ambassador for Planet Ark's National Tree Day and sits on the board of the Royal Botanic Gardens Foundation in Sydney. Other notable achievements include:
• 28 garden design awards both nationally and internationally.
• Currently designing large scale gardens and resorts in eight different countries, including Spain, Port Douglas Australia, Hong Kong, Singapore, Morocco, Dubai, Hawaii and Thailand.
• Awarded a Centenary Medal for services to Television and the Australian Community from Prime Minister John Howard Ambassador for Plan International, Children's Cancer Institute, Planet Ark (12yrs) National Tree Day (8yrs).
• Logie Award for most Popular New Male Talent.
• 6 Consecutive Logie Awards for
Backyard Blitz
for Most Popular Lifestyle Program.
• Executive Producer and host for
Jamie's Journey Hope for Uganda's Children
– in conjunction with Plan International (Child Sponsorship Agency) for HIV Aids awareness in Uganda.
• Appears regularly on the
Oprah Winfrey Show
.
• Regularly displays, competes and attends international garden shows – including Melbourne, Sydney, Brisbane, Cairns and New Zealand – and exhibited a garden design at Pacific Flora 2004 Japan (The World Garden Competition). Jamie also received the Award of Excellence for Construction and the Award of Excellence for Inspiration.