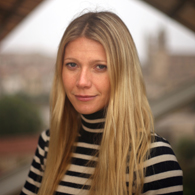 Gwyneth Paltrow
co-host,
Spain… on the road Again
A Hollywood legend in the making, Gwyneth Paltrow has defied the odds by remaining one of today's most prolific and celebrated actors in the ever-changing film industry. A testament to her undeniable talent, her role in
Shakespeare in Love
catapulted her into awards stardom with Best Actress honors at the Golden Globes, Screen Actors Guild Awards and Academy Awards. Her career has been studded with both critically acclaimed independents and studio blockbusters that have made her a fixture for this generation's film audience.
Paltrow starred in Marvel's
Iron Man
, which grossed over $100 million in its opening weekend. Paltrow took on the role of Virginia "Pepper" Potts, personal secretary and confidant to Tony Stark aka Iron Man. Paltrow recently completed production of James Gray's romantic drama
Two Lovers
with Joaquin Phoenix, which premiered at the 2008 Cannes Film Festival.
Paltrow recently made her directorial debut, co-writing and co-directing
Dealbreakers
, a short film she directed with her friend Mary Wigmore.
Paltrow's recent film credits include
Proof
, the film adaptation of the Pulitzer Prize- winning play in which Paltrow recently finished a successful run at London's Dunmar Theater. Her performance as a harassed young woman struggling to care for her eccentric math genius father reunited her with her
Shakespeare in Love
director, John Madden, who also directed the film co-starring Anthony Hopkins, Jake Gyllenhaal and Hope Davis. She received an Olivier Award nomination for Best Actress for her work in the play and a Golden Globe nomination for her work in the film.
Sylvia
, the Focus Features film tells the story of the relationship between Sylvia Plath and Ted Hughes. Paltrow has appeared in director Anthony Mighella's
The Talented Mr. Ripley
opposite Matt Damon, Jude Law, and Cate Blanchett and in the hit film
A Perfect Murder
opposite Michael Douglas and Viggo Mortensen, as well as in the critically acclaimed and international box office hit film
Sliding Doors
.
Paltrow's work on the public television series
Spain… on the road Again
marks her first foray on a television series. While in high school, she spent time in Spain as a foreign exchange student, where she fell in love with the country and has been "officially adopted" by Talavera de la Reina, a region of Castilla La Mancha.
Born in Los Angeles, Paltrow stems from a very close-knit family deeply entrenched in the entertainment industry. Her father, Bruce Paltrow was a highly successful producer (
St. Elsewhere
,
The White Shadow
) and her mother is the award-winning actress Blythe Danner. Paltrow and her younger brother Jake spent their early childhood in Los Angeles, where she attended St. Augustine by the Sea (now known as Crossroads).
At the age of 11, her family moved to New York and she enrolled in the Spence School where she would later graduate. Paltrow enrolled in the University of California at Santa Barbara with the intention of majoring in Art History. She quickly learned that college life was not something she felt committed to and withdrew from school despite her father's strong recommendation to remain. It wasn't until he caught her moving performance in the Williamstown Theater production of
Picnic
, starring opposite her mother and Tony Goldwyn, that he lent his support in her pursuit of an acting career.
Paltrow currently resides in New York City and London.