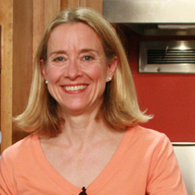 Emily Luchetti
Emily Luchetti, the executive pastry chef at Farallon Restaurant in San Francisco, is a well-known cookbook author recognized around the country for her award-winning sweet creations. She was named Pastry Chef of the Year in 2004 by the James Beard Foundation and won the coveted IACP Cookbook Award in 2007. She makes frequent television appearances on national television and has been featured in many national food magazines.
After training in France and at the New York Restaurant School, Emily came into the national culinary spotlight over 20 years ago as part of the opening team of Stars Restaurant, a legendary San Francisco restaurant in the '80s and '90s. Following Stars, Emily joined Chef Mark Franz and Pat Kuleto at Farallon where she is now considered one of the Bay area's top pastry chefs.
In addition to her ongoing restaurant work, Emily has written four cookbooks,
Stars Desserts
,
Four Star Desserts
,
A Passion for Desserts
, and
A Passion for Ice Cream
.
Emily is regarded as a leader in the culinary world, having served as the chairwoman of Women Chefs and Restaurateurs from 1994-1999 and with her current position as a trustee of The James Beard Foundation.