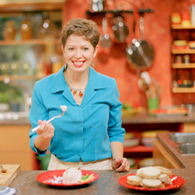 Daisy Martinez
Daisy Maria Martinez was born to mainland Puerto Rican parents in Brooklyn, New York, where she lived at her grandmother's house until she was almost five years old. Growing up in the household of her "abuela" introduced Daisy, even as a young girl, to the joys that could be unraveled in the kitchen. Between her grandmother, Valentina, and her mother, Conchita, Daisy learned firsthand how the kitchen is easily the happiest room in the household. Before committing herself to the art of cooking, Daisy did some modeling and acting. Her American commercials include Ford cars and Newport cigarettes, and Spanish-language commercials include McDonald's and AT&T. Daisy has also appeared in numerous movies including "Carlito's Way" and "Scent of a Woman."
In 1998 Daisy graduated from the French Culinary Institute, and began working as a prep-kitchen chef on the
Lidia's Italian-American Kitchen
television series and as a private chef in New York City. In addition to her own show, Daisy manages a small catering business, "The Passionate Palate." She shares her passion for food with her husband Jerry and her family, as well as her numerous friends and relatives in the Hispanic community. From them, she has learned to love and cook delicious food from across the broad spectrum of Latin cuisine.