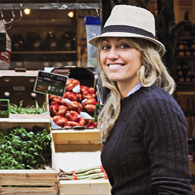 Clodagh McKenna
Clodagh studied in France and NYC, and then went on to train as a chef at Ballymaloe Cookery School, followed by 3 years working as a chef in Ballymaloe House in Cork, Ireland. After an inspiring visit to the Middleton Farmers Market, she decided to take a leap of faith and leave the kitchen to set up her own stall at that market. Soon after, she was developing other farmers markets around Ireland and set up a commercial kitchen making pates, which her cousin Barrie Tyner now sells at farmers markets in Cork.
Currently, she writes a monthly column for The Gloss Magazine which comes free with the Irish Times. In addition to her regular column, Clodagh has also written for the Irish Times, The Sunday Tribune, Aer Lingus Magazine, Delicious Magazine, Image Interiors, and RED Magazine. Clodagh has appeared as a cook and promoter of local produce on RTE's, Out of The Blue; Rick Stein's Food Heroes, (BBC2); TV3's Ireland AM Show; RTE's The Late Late Show, Saturday Cooks (ITV), Saturday Kitchen (BBC1), The Today Show (NBC in USA), RTE's The Afternoon Show, BBC's Food Poker, UKTV's Market Kitchen. Clodagh also appeared on NBC's The Nate Berkus Show and The Rachael Ray Show in the USA, and has been a guest on the Martha Stewart Radio Show. Forbes labeled her 'Ireland's Rachel Ray – a Hot New Brand'.
Clodagh has published three books -- her first book The Irish Farmers' Market Cookbook, which was a bestseller, was published by Harper Collins in November 2006. Her second book, entitled Fresh From the Sea was published in 2009 by Gill and Macmillan. Clodagh's most recent cookbook, Homemade, published by Kyle Cathie in 2010 was awarded the prestigious Gourmand award for Best in the UK category. Homemade has also been published in German. Clodagh is currently writing her fourth book entitled 'Clodagh's Kitchen Diaries' which will be published in October 2012 by Kyle Cathie. In 2011 Clodagh launched Homemade in the States to great success. It is available in bookshops and lifestyle stores acrossed America including, Barnes and Noble and Anthropologie.
Clodagh filmed two television series to accompany her Irish Farmers Market Cookbook, entitled Fresh From the Farmers Markets which debuted on RTE 1 in 2007. Part two of the series was broadcasted over the summer of 2008 and was also picked up by media outlets in the UK, Europe, Australia, and New Zealand. Her third series, Fresh From the Sea, opened to rave reviews in June of 2009 on RTE 1. The series also aired in New Zealand the autumn of 2009 and on UKTV the spring 2010. The fourth series of the same name aired June 2010 on RTE 1. 'Clodagh McKenna's Irish Food Trails' airing on public television stations in the USA as of May 2012.