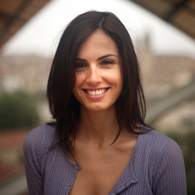 Claudia Bassols
co-host,
Spain… on the road Again
Barcelona-born Claudia Bassols graduated from Spain's Coco Comin School of Musical Theater and studied acting at Australia's National Institute of Dramatic Art, at the University of North Carolina Wilmington, and in Los Angeles. She made her stage debut in Wilmington, where she received great reviews for her performance in the play
Boys' Life
. She supported herself during the audition phase of her career by appearing in commercials and singing in pubs with her band, The End.
Perseverance and hard work paid off when she was cast in the leading role of "Carmen" in the sitcom
El Mundo de Chema
, alongside renowned Spanish comedian Carlos Latre. Since then she has played the lead in other Spanish TV series such as
C.L.A. No somos ángeles
. She has also appeared in supporting roles on some of Spain's most successful TV series (
Amar en tiempos revueltos
,
Mis adorables vecinos
). Fluent in Spanish, Catalan (a Romance language spoken in parts of Western Europe), Swedish, Italian and French, Bassols has been frequently cast in English-speaking roles, including the feature film
Blackout
starring Amber Tamblyn and Aidan Gillen.