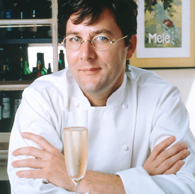 Charlie Trotter
Charlie Trotter's is regarded as one of the finest restaurants in the world. For over 16 years, the restaurant has dedicated itself to excellence in the culinary arts. Not willing to ride on it laurels, Charlie Trotter's is continuously forging new directions and has been instrumental in establishing new standards for fine dining worldwide.
The restaurant is recognized by a variety of prestigious national and international institutions. In 1995, Charlie Trotter's was inducted into the esteemed Relais & Chateaux and in 1998 was accepted as a member by Traditions & Qualité. It has also received Five Stars from the Mobil Travel Guide (the only Five Star restaurant in Chicago), Five Diamonds by AAA and seven James Beard Foundation awards, including "Outstanding Restaurant" (2000) and "Outstanding Chef" (1999). Wine Spectator named the restaurant "The Best Restaurant in the World for Wine & Food" (1998) and "America's Best Restaurant" (2000). In January 2004, Trotter opened his first eatery outside of the United States: C, the signature fine dining restaurant at the new One & Only Palmilla resort in Los Cabos, Mexico. The menu at C features Trotter's signature culinary style and changes daily to reflect the region's indigenous flavors.
Trotter is the author of nine cookbooks – including his most recent
RAW
(Ten Speed Press, 2003), a celebration of the raw-food movement co-authored with Roxanne Klein – and is the host of the nationally aired, award winning cooking series,
The Kitchen Sessions with Charlie Trotter
. In April 2004, the third season of this celebrated series debuted nationwide on public television with a companion cookbook titled
Workin' More Kitchen Sessions With Charlie Trotter
(Ten Speed Press, 2004). Trotter has received widespread print and broadcast media coverage for his projects including appearances in
The New York Times
,
USA Today
,
Travel & Leisure
,
Bon Appetit
and on television programs such as
Martha Stewart Living
.
Beyond his numerous culinary accolades, Trotter is very involved in philanthropic activities, which include a vast number of national and international charities. Most close to his heart is the Charlie Trotter Culinary Education Foundation. Since its inception in 1999, Trotter hosts weekly dinners for High School students, as well as underwriting annual fund raising dinners for the foundation. To date the foundation has raised over $350,000 to award to individuals seeking careers in the culinary arts. Trotter recently received an award at the White House from both President Bush and Colin Powell for his work with the foundation and was named one of only five "heroes" to be honored by Colin Powell's charity, Americas Promise.