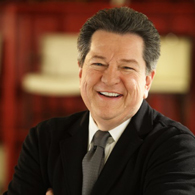 Bill Stubbs
In
Moment of Luxury
, Bill Stubbs brings the artistic eye, adventurous spirit and extensive knowledge that has made him one of the world's leading interior designers to his role as host. Named to the AD 100,
Architectural Digest's
list of the World's Top Designers and Architects, Stubbs is president of William W. Stubbs and Associates, a 25- year-old international interior design firm, whose recent projects have taken him around the world to Kiev, Moscow, London, Hawaii, Acapulco, Palm Beach and Houston. His award-winning designs include renovations of historical buildings, private homes and estates, vacation retreats, commercial multi-family properties, community housing projects for the elderly and, most recently, the interior design of a large corporate jet. An author and popular lecturer, his second book,
Moment of Luxury: Discovering the Beauty Around You
(Gibbs Smith), published this fall.
Born in Gonzales, Texas, Stubbs studied design at the International Institute of Design in Washington, D.C. After a short stint as a designer at Foley's department store in Houston, he started his own design firm, working with a major developer on large projects in Houston and Boston. As his developer clients became increasingly successful, they moved into the luxury, high-rise condominium market. Well-heeled buyers saw the public spaces and model apartments that Stubbs had designed and retained him. Stubbs' reputation grew rapidly, and he was soon jetting around the globe designing multi-million dollar projects for high-profile clients. Many of his projects, including his own home, have been featured in
Architectural Digest
and he has received awards from numerous professional organizations, including ASID and IIDA.
Stubbs' holistic approach to each project defines his style and success. Considering every aspect of the project, from the site and architecture of the building or space to the taste and dreams of his clients, Stubbs ultimate goal is to have the client say, "This is me!" Believing that an environment should nurture and serve those for whom it was created, Stubbs sees his job as facilitating the accomplishment of that goal. His clients have run the gamut from the rich and famous with no budget restrictions, to dense community housing projects, to the recent graduate who must furnish her entire existence on less than $3,000. Stubbs pours the energy commensurate with the extent of the project, not the importance of the client, into each job.
With
Moment of Luxury
, Stubbs hopes to share his vision with viewers—luxury can be experienced by everyone, no matter how lavish or modest their budget. Combining his extensive experience with the high-end market of the wealthy, and his own humble beginnings rooted in affordable practicality, Stubbs is able to deliver all the elements of comfort, excellence and exclusivity in any environment. He calls his special touch "affordable luxury" and lends his unparalleled combination of enthusiasm, knowledge and design savvy to his new public television series.
A much sought-after public speaker and guest lecturer for audiences throughout the United States, Stubbs is the recipient of the Champion of Literacy Award, which honors individuals who promote the cause of literacy and who have made a difference through the written word. He has made numerous TV appearances, and his work and professional opinions have been published by dozens of magazines and newspapers. His Houston townhouse, known as the Stubbs' Idea House, serves as a locale for charity functions and Art Institute classes. Stubbs is also the author of
I Hate Red, You're Fired! The Colorful Life of an Interior Designer
.